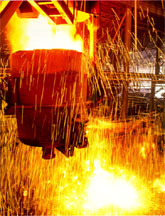 Although most metal markets are still depressed from their all time highs of the last few years, it's quite likely that steel pricing is going to increase in the near term. What's that mean? It means that pricing for steel goods like warehouse racks, conveyors, shelving, mezzanines, and other material handling equipment will be on the rise.
"We are clearly going to see higher prices for May," said Marty Forman, president of Forman Metal Co.  in the Milwaukee Journal Sentinel. "Things aren't going to explode, by any means, but the scuttlebutt is that steel prices are going up $15 to $20 a ton."
The takeaway? Prices are as low as they will be for the near future right now.