Comparing Pallet Rack Guards: Flexible Netting vs. Wire Mesh Panels
Both ways can help protect employees and inventory. What are the critical differences?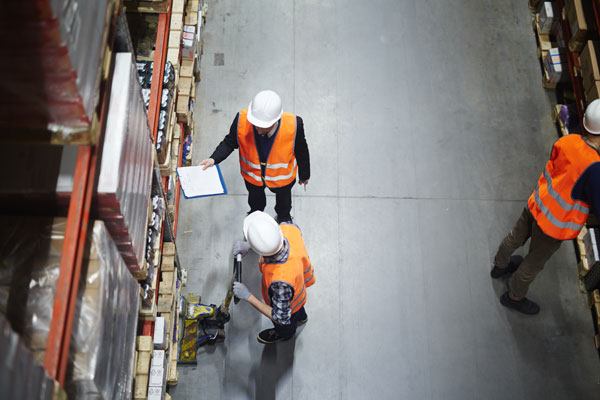 Unguarded rack is dangerous if there are people working in the aisles below. Safety managers know this, insurance companies know it, and if you have rack in your facility, you probably know it too. You have probably seen pallets break. You've seen drivers make mistakes when loading & unloading. We've seen things fall. If you've been in the business any length of time, you may have walked into your warehouse in the morning to find a case of something from the fourth level split open on the floor.
Things fall off of racks, and if we're fortunate, they don't hit anybody
There are two basic types of pallet rack fall protection — safety netting and wire mesh panels. Both do the job; both have their advantages and weak points. So which would work for you? The answer to that depends on what you're loading, what you're using to load it, and the incident you're trying to prevent.
100% nylon pallet rack guards are washable, can be steam-cleaned, and have been accepted by the FDA in many sanitary applications, including freezer and food packing facilities. They can be flush-mounted or offset mounted. Extensions above the top beam are available so you can protect every last pallet in your system (the wire mesh panels offer this as well). In addition to protection for storage racks,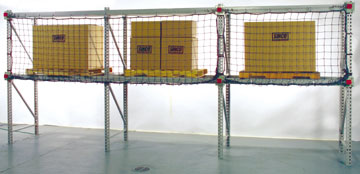 Guard systems also are available for storage partitions, storage security, shelf backing, and mezzanine guards. You can guard pretty much anything with it.
The flexibility can have an impact on your bottom line. For "gentle" accidents, rack safety netting flexes, catches the load or halts a moving pallet and you really shouldn't have any issue with damage to the net, its hardware, or the rack uprights (we recommend that you always check everything after any collision, of course). Although both systems can be modified to fit about any application, the rack netting is easier to trim and modify to fit a specific space.
In these systems, woven wire panels are mounted directly to pallet rack as a backing system. They're made from a tough, all-welded angle-frame design. They are heavy-duty protection that will last a very long time. You can add hinged or sliding gates to totally enclose the rack and its load. This gives the panels a real advantage in terms of flexibility; they can be used as a security system. What we've seen is people using panels along the top side of a pallet rack, and then dovetailing a few bays into security bays with high value inventory. This allows you to control who gets in, and when since it's totally lockable. It's available in 8′, 10′, 12′, 14′ and 16′ heights, and can be double stacked if you want to protect the full height of a tall rack system. It can mount flush or offset to the posts. It is pretty easy to configure, as the standard sizes mount easily; an 8′ wide rack takes an 8′ wide panel in the appropriate height.
The panel systems don't flex; if hit hard enough, they can be damaged and they have the potential to damage the rack. In a scenario where a lift truck pushes a pallet into the back of the rack, and slams it into a wire panel, there isn't any give. Having said that, I have not heard of it happening. Typically a driver will realize it early enough not to keep pushing into the panel.
Typically, wire mesh systems are a little more costly than an equivalent netting system, but not as much as you'd expect. For instance, an 8′ high, 8′ wide panel costs $403 (currently – with steel price fluctuations, that can change fast). A 9′ x 12′ lighter duty net system might run $85 for the netting, and another $323 for mounting hardware. The big difference might come in freight, where the much heavier panels will definitely cost more to ship. Both install relatively easily, with the heavier panels obviously requiring more assistance to hold into place as they are mounted. These costs are just one comparison; for any specific project, the comparison might shift one way or another.


Tags: industrial accident prevention, Material Handling, Pallet Rack, storage, warehouse safety
---
Scott Stone is Cisco-Eagle's Vice President of Marketing with more than thirty years of experience in material handling, warehousing and industrial operations. His work is published in multiple industry journals an websites on a variety of warehousing topics. He writes about automation, warehousing, safety, manufacturing and other areas of concern for industrial operations and those who operate them.
What can we help you with?