Wire Pallet Rack Deck Capacities: What You Need to Know
Decking has a direct effect on load capacity and stability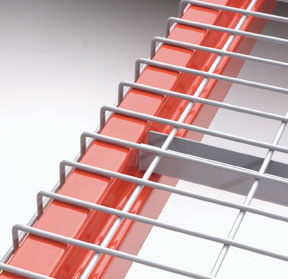 Craig Chamberlain has an article over at the MHEDA Edge website that you need to read if you use pallet rack wire decking.
Here's the money quote:
"Decking can, and often does, directly bear the total weight of the application's load and transfers that load to the beams of the pallet rack. Regardless of the weight-bearing capacity of the rack's beams, an improperly overrated deck can and will jeopardize the load-bearing capacity of the entire system and result in a failure."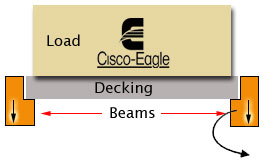 Some things to realize about wire decking and capacity
Standards for rating rack decking capacity have just recently been standardized by the Rack Manufacturers Institute (RMI). According to Chamberlain, before the end of the year, ANSI MH26.2 will be the basis by which RMI will certify with an R-Mark a given load table for decking when that deck manufacturer can prove their strict conformance to MH26.2. We'll have apples-to-apples, at least among RMI-member manufacturers.
Your beams and uprights must be able to bear more weight than the decking. This means that sure, there are decks with more than 3,000 pound capacity, but if you have 5,000 pound capacity beams in a 2-pallet per bay configuration, you can only put 2,500 pound loads on each pallet.
"Short" loads or pallets that sit entirely on the decking, and don't overlap so that they set on beams will reduce capacities of the entire rack due to the way weight is distributed. This is why rack uprights are rated for evenly distributed loads. More details on this here.
Decks made with a different number of channels and lighter gauges of steel do not have the same rated capacity. You really do get what you pay for when it comes to rack decking.
What if you don't know?
If you're not sure exactly how to calculate capacities between your rack and decking, contact a professional to assist you.

Tags: facilities maintenance, Material Handling, OSHA, Pallet Rack, warehouse safety, wire rack decking
---
Scott Stone is Cisco-Eagle's Vice President of Marketing with more than thirty years of experience in material handling, warehousing and industrial operations. His work is published in multiple industry journals an websites on a variety of warehousing topics. He writes about automation, warehousing, safety, manufacturing and other areas of concern for industrial operations and those who operate them.
What can we help you with?