10 Steps to Supply Chain Sustainability
Operate more efficiently with sustainable principles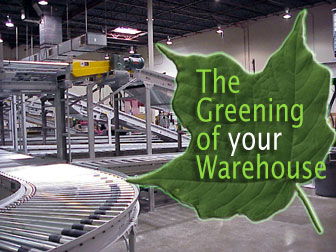 The Material Handling Industry of America has posted a video that may be helpful if you are starting the process of "greening" your supply chain.
Baby steps are important, especially at the plant level. For instance, in a recent Cisco-Eagle white paper (PDF), we point out the value of energy efficient conveyor motors. A thousand feet of conveyor outfitted with energy efficient motors could cut enough energy costs over five years to pay for 90% of the cost of the equipment. Also, besides its money savings and "green" profile, you are also saving on heat, which means the equipment may require less maintenance, and endure less wear and tear. It's a win-win.
Here is the general outline of steps you should take:
Make the business case (Clearly establish and communicate the business benefits of sustainability (Public relations benefits: Risk Reduction, Cost reduction)
Get top level buy in & accountability (obtain funding & resources, appoint a sustainability champion, gain accountability and empowerment to effect change)
Empower your employees (communicate the commitment, encourage involvement)
Benchmark supply chain sustainability (perform a carbon footprint study, assess your green ranking, review local, federal, and global sustainability regulation
Develop a sustainability plan (set sustainability goals, develop metrics, track progress)
Identify low hanging fruit first ( make simple and easy improvements, increase energy efficiency, gain immediate impact)
Develop sustainability scorecards for suppliers ( set goals and metrics, benchmark and rate suppliers)
Help your suppliers succeed (communicate expectations, measure progress, make them accountable, reward success)
Review your performance (document compliance, identify areas for improvement)
Be transparent and publicize your goals (communicate to management, employees, customers, suppliers)
Final thoughts
Be transparent and publicize your efforts, and focus on those things you can succeed at early. At the heart of it, a greener supply chain is also a less expensive one. More great tips at the MHIA Green Resources area.

---
Scott Stone is Cisco-Eagle's Vice President of Marketing with more than thirty years of experience in material handling, warehousing and industrial operations. His work is published in multiple industry journals an websites on a variety of warehousing topics. He writes about automation, warehousing, safety, manufacturing and other areas of concern for industrial operations and those who operate them.
What can we help you with?