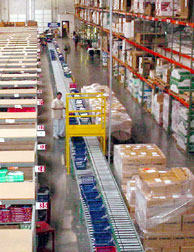 The Boyd Company has released a useful document on the comparative costs of operating a warehouse or distribution center around the United States, "Comparative Distribution Warehousing Industry Operating Costs". It takes multiple factors into account and provides an annual operating cost for many cities and regions. The report bases these costs on a hypothetical 175,000 square foot facility with 75 nonexempt workers. This warehouse would ship over-the-road to a national U.S. market.
The factors taken into consideration include:
Total annual labor costs
Electric power costs
Natural gas power costs
Amortization costs
Property and sales taxes
Shipping costs
Some markets of interest and their annual operating costs:
San Jose, CA (most expensive): $12,064,961
Sioux Falls, SD (least expensive): $7,417,487
Chicago, IL $10,351,816
St. Louis, MO: $8,808,609
Dallas/Ft. Worth, TX $8,430,605
Oklahoma City, OK $8,119,512
Tulsa, OK $8,089,925
Obviously these numbers won't be an exact fit for every operation, but they can give you a good idea of costs in a given city or state.