Conveyor Costs: The Critical Information You're Overlooking
Total cost of ownership is more important than equipment costs. Here's how to reduce it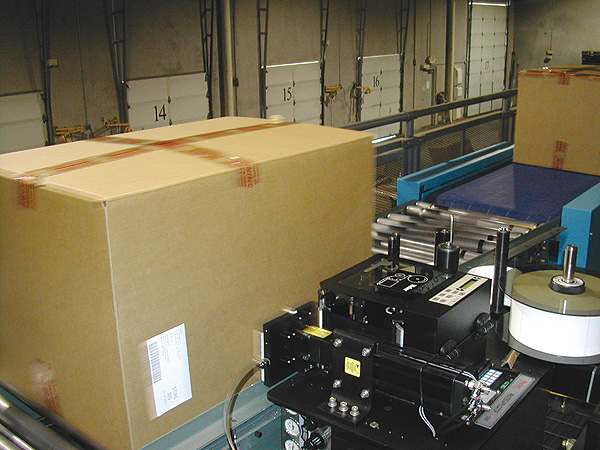 A conveyor system is an investment that you don't take lightly—you want the best equipment you can buy for your money. The most obvious cost of that equipment will be the cost on the initial invoice, but there's more to consider when purchasing a conveyor…far more. That's why you should consider the Total Cost of Ownership for your system, and what you can do to decrease it in the long-term. What are the total costs, and how can you reduce them?
What is Total Cost of Ownership, and why is it important?
As we said, when it comes to purchasing a conveyor system, the initial cost is only one piece of the puzzle. The long-term costs associated with your conveyor fluctuate depending on the controls, power train and other components of your system. The Total Cost of Ownership takes those factors into account over the period of time you use your conveyor. That means that with a greater initial investment and more applicable system, you could decrease your Total Cost of Ownership as shown below.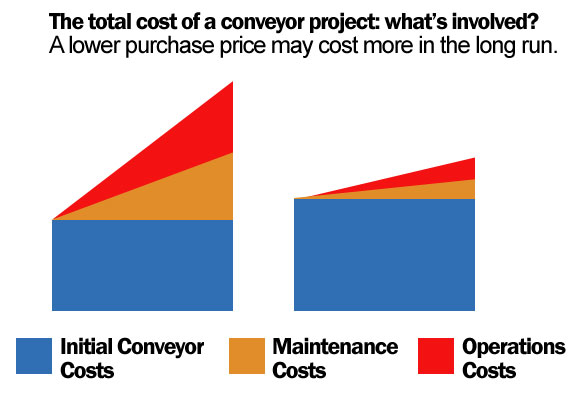 Sounds pretty good, right? But before you agree to a higher initial cost, it's important to know what goes into those lower costs of ownership.
How do I calculate Total Cost of Ownership?
To calculate your annual Total Cost of Ownership (TCO), you need 4 pieces of information:
IC – Initial Cost (equipment, controls and installation)
OC – Operational Cost (electrical and pneumatic usage)
MC – Maintenance Cost (spare parts, replacement parts and labor)
UL – Useful Life (in years)
This means that the Total Cost of Ownership decreases as the Operational Costs and Maintenance Costs decrease, and while the Useful Life increases.
So, how do I control long-term costs?
There are a few ways to control your costs in the years to come with your conveyor.
1. Buy the right conveyor
This is essential. Select the right conveyor with the adaptability you'll need for your system. This is the most important piece of the puzzle, since no amount of maintenance will be as expensive as having to replace a conveyor altogether because it doesn't work for your application.
2. Configure your controls
Use a sleep feature to cut off power to zones or the entire conveyor when it isn't in use, and you can save 10-20% in energy costs for belt-driven live roller conveyors and 99% on 24-volt systems. Not only does this save on energy costs—it reduces wear, thereby reducing maintenance and spare parts.
With the right controls, you can also adjust the speed of your conveyor to adapt to your throughput requirements. Run the conveyor at the speed appropriate for the season.
3. Buy a more efficient power train
Motor: The difference between standard efficiency and energy-efficient motors may only be 3%, but in a large operation, that can mean $10,000 to $30,000 in energy savings, and even more in maintenance costs.
Gearbox: Stepping up to a higher efficiency gearbox can reduce horsepower requirements, thereby saving energy costs.
Synthetic Lubrication: Add even more efficiency with this relatively inexpensive lubrication addition, and make your equipment last longer.
4. Eliminate power transmission components with a direct drive when possible
While the chain and sprocket drive is the most popular default in the industry, it is the component that requires the most frequent maintenance. Replacing these components with a direct drive may add to your initial cost, but can reduce the spare parts and maintenance costs associated with the components.
Remember: A system designed for your future needs is the best way to slash total cost of ownership
By taking the time and assessing your conveyor system with enough foresight, you can save yourself at least thousands of dollars down the line. A more detailed article on this topic can be found here.

---
Scott Stone is Cisco-Eagle's Vice President of Marketing with more than thirty years of experience in material handling, warehousing and industrial operations. His work is published in multiple industry journals an websites on a variety of warehousing topics. He writes about automation, warehousing, safety, manufacturing and other areas of concern for industrial operations and those who operate them.
What can we help you with?