White Paper: Pedestrian Safety in Forklift Operations
How can you make workers safer near forklifts? What are the justifications?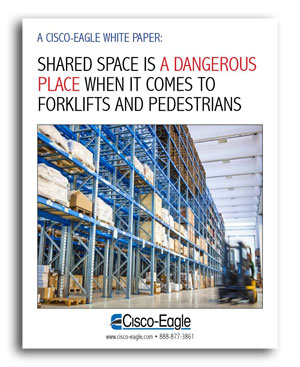 36% of forklift injury accidents involve pedestrians. That's tens of thousands of accidents a year in the U.S. alone, a great many of them with direct bearing on pedestrians, who are at great risk. Due to the sheer mass of forklifts, they are particularly dangerous for pedestrians. Almost all these accidents result in serious injuries due to the mass and size of forklifts. Forklifts account for 1% of industrial accidents, but 10% of injuries. That statistic alone should put dealing with lift traffic and the ways it threatens walking employees, order pickers, and others a top priority.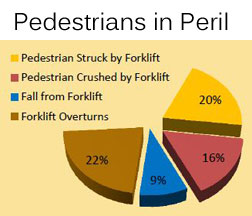 We've recently added a free white paper focused on this topic. It covers a range of processes, equipment, and training that you can undertake to help reduce the chances of fatalities or serious injuries in your operation.
Includes information on:
Training – not just for forklift drivers. Not just for warehouse personnel. Not just for your employees – for everyone
Speed limits – why forklifts handle like bathtubs, and why that makes speed controls a safety priority
Facility clutter – the enemy of safety because it causes swerves and reduces visibility
Environmental factors – why lighting, noise levels, and poor organization can cause accidents
Solid vs. visual barriers – when should you utilize physical barriers vs. floor tape to demarcate lanes
When to automate – How to deploy automated solutions such as motion sensors, safety gates, warning devices and more
Traffic management planning – why you should create a traffic management plan. You already have one – it may just not be the one you want
Links to relevant information from OSHA, safety consultants, and more
Download the white paper:
Download "Shared Space is a Dangerous Place": (1MB PDF file opens in a new window).
Also: More white papers on plant security, justifying safety systems, robotic palletizing, and more.


Tags: AisleCop, industrial safety, warehouse safety
---
Scott Stone is Cisco-Eagle's Vice President of Marketing with more than thirty years of experience in material handling, warehousing and industrial operations. His work is published in multiple industry journals an websites on a variety of warehousing topics. He writes about automation, warehousing, safety, manufacturing and other areas of concern for industrial operations and those who operate them.
What can we help you with?