How to Properly Evaluate Your Warehouse Management System (WMS)
A guest opinion by LIDD's Jean-Martin Roux

What Does a Warehouse Management System Do?
A medium-sized chain of convenience stores once asked me to take a look at their Warehouse Management System (WMS) to see if it was time for an upgrade. After documenting all the functions it performed, we discovered that none of them could be described as serving warehouse activities. The system had lots of good purchasing functions—but offered nothing to support the actual warehouse.
What, exactly, is a warehouse management system supposed to do? It seems pretty obvious, but after more than ten years in the WMS world, I still run into many executives who don't have a clear understanding of what a WMS is or how to evaluate its performance compared to other solutions.
Let's start by looking at each of the three letters in the WMS acronym.
The "W" in WMS Stands for Warehouse
Warehouse activities include receiving, putaway, replenishment, order assembly and shipping. Additionally, many warehouses have kitting, "value added" services and special packaging functions.
"W" does not stand for transportation. Or manufacturing. Or forecasting. Or billing. Just warehousing. Being clear on this point is the first step towards making a wise WMS purchase. Many companies blur this line and end up buying a WMS that's good at everything but supporting warehousing activities and their inputs. Warehousing should be the top priority in these purchasing decisions. To steal a quote from a former American president, "it's the warehouse, stupid."
The "M" in "WMS" includes Planning & Execution
The key to understanding, and evaluating a warehouse management system, is that the "M" stands for much more than just "management". It also involves planning and executing warehouse activities.
Resource Planning
With all the data it gathers in the execution of warehouse activities, a WMS is in a great position to supply important statistics on the resources used to perform a complete range of warehouse tasks. This is a role that no other system in your application park can play.
Understanding productivity is not enough. Visibility into the upcoming workload is also crucial. Since the WMS is not the entry point of transactional data, such as sales and purchase orders, it is dependent on the host system to provide insights on upcoming workloads. A WMS should allow for these orders to be created within its data set without them being instantly turned into warehouse tasks.
Task Planning
A WMS should provide managers with configurable task creation triggers to which documents can be assigned In other words, the planning activities that will reside under the WMS portion of your application park should include the following elements:
Configurable picking list creation triggers
Configurable warehouse location capacity and product location assignment
Inventory rotation and expiration data management
Push notification such as e-mails and text messages when specific events occur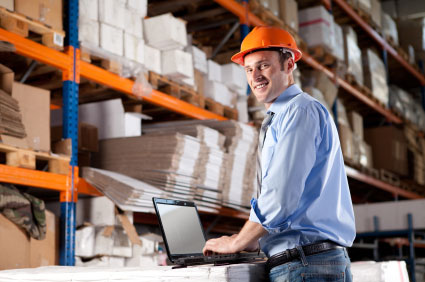 Execution
It's important to understand that a WMS is the tool that will translate a document created in the host system of your application park, most likely your Enterprise Resource Planning (ERP) system, into a task that needs to be executed on your warehouse floor.
There are a variety of practices in the creation of warehouse tasks. What you really want to focus on though, is which ones should be created by WMS logic only, with no dependence on another system within your application park.
Another important element of execution is task creation and assignment. The breakdown here is very important to understand since creating and assigning tasks are not the same thing. The most common WMS work assignment methods include the following:
Paper based tasks lists
Electronic list selection
Barcoded label task list
The "M" in WMS also stands for Management
With so many components, such a system will require regular maintenance that will result in the creation of a brand new set of tasks for both your operations and I.T. departments. These maintenance tasks can be broken down into four specific families.
WMS Specific Interfaces
Being part of a park of applications involves exchanging information with other software applications. You should also expect your WMS to interface with systems outside your application park, such as exchanging information with your courier's API for instance.
Device Management
With so many data capture tools inserted into your distribution environment, conducting regular maintenance and updates will require specific planning. And, like it or not, repairing broken devices will be part of it.
Evolving Business Needs
As your business grows and changes so will your WMS requirements. This is where owning your WMS configuration becomes very important. Having a manager in charge of owning the distribution process and making sure that you have WMS super users capable of process configuration are key success factors in keeping your WMS on track with your business.
Master Data
Your WMS should always be considered as the slave to the host system when it comes to master data. The item card, customer card, courier service, etc… are all elements that are created and maintained in the host system.
The "S" in "WMS" Is for System
The textbook definition of a system is a group of components forming an integrated whole. A WMS is just that – a group of three basic technology components:
A logic tier
A database tier
A user-interface tier
A WMS is only one component of your application park and it plays a supporting role to your ERP alongside other business applications such as manufacturing execution systems, transportation management systems and purchasing systems.
Final Words
Hopefully I've cleared some confusion about what a WMS actually is. Getting these facts across to your management and I.T. teams will help you do a better job of assessing your needs and defining in which software your logistics-oriented business decisions should actually sit.

Jean-Martin Roux, Principal at LIDD, has been a logistics applications and integration specialist since 2005 and is helping clients throughout North America implement supply chain technology. He has worked with clients on all facets of their supply chain application park: Warehouse Management Systems (WMS), Transportation Management Systems (TMS), Manufacturing Execution Systems (MES) and Enterprise Resource Planning (ERP). Jean-Martin holds a Bachelor's degree in Industrial Engineering from ETS Montreal.
Tags: Factory Automation, Warehouse Management, WMS
---
Scott Stone is Cisco-Eagle's Vice President of Marketing with more than thirty years of experience in material handling, warehousing and industrial operations. His work is published in multiple industry journals an websites on a variety of warehousing topics. He writes about automation, warehousing, safety, manufacturing and other areas of concern for industrial operations and those who operate them.
What can we help you with?