Three Inexpensive Ways to Reduce Forklift Accidents
The costs of a single accident are staggering, but the solutions are surprisingly affordable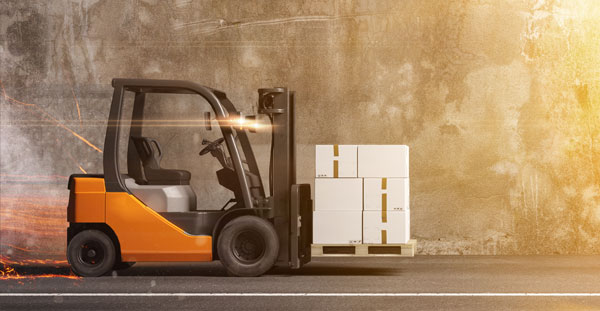 You probably know the stats: Forklifts are extremely common, very productive and likely the most dangerous piece of machinery in any given warehouse. They seriously injure tens of thousands of people a year.
Over its lifespan, most every forklift will be involved in some type of accident. If that involves a pedestrian, the injuries can be ghastly and the costs astronomical. Here are some things we've recently looked at to help reduce the chances of such incidents.
Warning projectors
These systems are unique because they project an image. Many of our other sensor/warning systems, such as AisleAlert, use light, audio or both. LightCop utilizes high-resolution images. It's a plug & play, ceiling-hung crisp LED projected warning sign to the floor below.
It's long-lasting, rated at 45,000 hours of operation. Since it's a light system, it won't peel or tear. The standard projection is a "Caution Forklift Traffic", but custom images with stop signs or just about anything else are available.
Fork tilt warning systems
Once in a while, we run into something so simple that we have to post a video about it. That's what happened when we saw these simple forklift tilt indicators that can help forklift drivers maintain their loads in level, safer positions as they pick, place or transport them.

Even your best forklift drivers have problems understanding the tilt of their forks when entering or exiting pallets
Once attached to the forklift (takes about a minute), the indicator flashes when forks aren't level, quickly warning the driver. They're pretty accurate – within a quarter inch, once correctly installed. They help reduce misplaced and damaged pallets or loads by helping to keep things level, even when the forks are in a difficult position for drivers. The nice thing is, you can move them from one forklift to another. They attach with a strong magnet, so that's pretty easy as well. They go about a year on one battery swap, and require no wiring or other technical installation.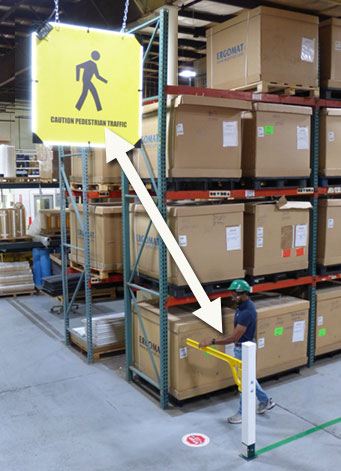 Interactive forklift warning signs
These systems trigger a bright LED light border on a "caution pedestrian" sign, based on an action, when the potential for a forklift collision is present. The lights can be programmed to flash or be continuously lit, and the duration of time the sign is illuminated can also be adjusted to best fit the situation and safety process.
Activations and applications
Gate activation: In this case, the wireless LED sign is activated when the pedestrian safety gate is opened. The sign is large (24″x24″) and can be placed up to 300′ away from the gate, meaning that pedestrians entering on one aisle or around a corner can trigger a warning at some strategic place elsewhere.
Door activation: When a pedestrian opens the door to enter a warehouse, or other area with forklift traffic, the 24″ double-sided LED sign lights up to warn forklift drivers that there is a pedestrian present to avoid a possible collision.
Motion sensor activation: Motion sensors detect approaching pedestrians and trigger the LED lights. These signs come in 12″ or 24″ sizes,  that hangs from the ceiling. They can be hung from virtually any structure.
Final thoughts
There are plenty of other ideas to reduce forklift issues in your facility, including automated gates, sensor systems, guardrails and lots more. A good traffic management plan in conjunction with safety training for drivers and pedestrians, as well as hard barriers and detection systems, can help you reduce the chances of these types of accidents.
Forklift safety/productivity resources

Tags: forklift, forklift injury, warehouse accidents
---
Scott Stone is Cisco-Eagle's Vice President of Marketing with more than thirty years of experience in material handling, warehousing and industrial operations. His work is published in multiple industry journals an websites on a variety of warehousing topics. He writes about automation, warehousing, safety, manufacturing and other areas of concern for industrial operations and those who operate them.
What can we help you with?