Download Our Scissor Lift Table Guide
Discover the right lift for your ergonomic needs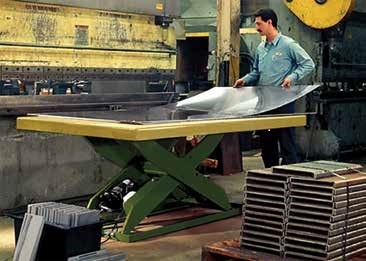 Ergonomics is a big deal when heavy loads like pallets, crates, bins of metal parts, motors and such must be lifted, rotated or moved. Finding ways to reduce forceful exertions helps stop injuries and increase productivity. To help your employees with a safer and more efficient way to move these heavy items, check out our new industrial scissor lifts guide.
What's inside the guide

Lift table specifications – We review the various options for lift tables and highlight various factors to consider when picking a lift that's right for your needs. These factors include load transition, platform size, lifting speed and all the components involved with your load's dimensions. Each section focuses on these factors so you'll have a complete picture of what you need.
Dock lift specifications – Learn which capacities, mounts and platform sizes are crucial in creating the right dock lift system to safely load and unload any truck that comes to your facility.
Other lifts – We also highlight three other types of lifts that are great for any operation: tilting, pallet handling and stackers. Each section on these lifts covers their advantages and ideal usage areas.
Specification worksheet: This handy worksheet includes important specs and options to fill out to get started.
More resources
---
What can we help you with?