What Is The Cisco-Eagle Difference?
Our new guide shows you how we are the right solution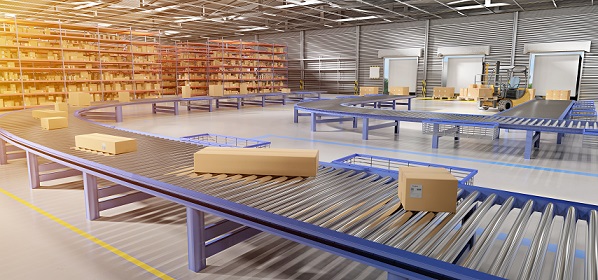 You have plenty of options when searching for an organization to help you build, expand or enhance your facility. These options all have roughly the same products and services. Often, you can buy the same exact equipment and brands from a number of sources. When that's the case, why would you choose Cisco-Eagle over the alternatives?
Price is one way you can differentiate between companies–and price always matters. But at the end of the day, performance is always more important. You'll remember the service, reliability and technical acumen of your provider when price is long forgotten. It's what we deliver here at Cisco-Eagle. Our new guide highlights the reasons why.
Why Cisco-Eagle is the right fit
Employee-Owners forms our core
Every Cisco-Eagle employee owns shares and participates in our growth. Our empowered employee-owners provide superior service because they're directly incentivized to do so. When you have a stake in the company, you want that company to succeed, and we each bring that passion to our positions with a desire to achieve success. This shows in the effort we put into all facets of a project life-cycle, from exceptional customer service to complete project design and execution.
Cisco-Eagle works to ensure our employee-owners are fulfilled and happy in their work life. We believe relationships and consistency help us deliver great customer service experiences.
The average employee-owner here stays with us twice as long as the national average, which means you'll work with a deep and talented staff today, tomorrow and into the future. 18% of our employee-owners have been with the company for at least 20 years. This stability offers a foundation of expertise you can count on.
Read more: Shoptalk: Employee-Ownership at Cisco-Eagle
Fifty years of partnership and performance
For five decades, Cisco-Eagle has offered distinct advantages to those looking for a better material handling integrator: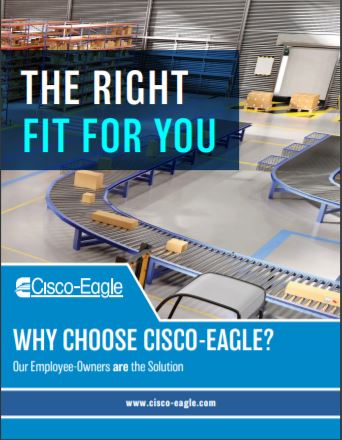 Big-company resources, small-company mindset – Our company culture is built for partnership with customers who want lasting performance and good value. We execute multiple large-scale projects without fear that employee departures, illnesses or accidents could endanger your project, and have the financial strength to execute larger projects that small companies can't. In contrast, we tackle small projects some companies aren't willing to because they matter to us, plain and simple. Through all of this, you'll have the comfort of knowing you'll work with the same team over many years because we retain key players longterm.
Specialists dedicated to your performance – We provide exceptional service because each department within Cisco-Eagle is focused on solutions. You can count on our experience and support to power your project towards its completion. In our guide, we highlight some of our departments:

Systems Integration – The kind of support your project deserves is the kind our systems integration group delivers. You don't need surprises, delays or poor decisions that sacrifice reliability and quality for a few dollars. With forward-thinking towards innovation and depth of knowledge and experience that most competitors just can't match, our systems group is ready for any challenge.
Maintenance – 24/7, our service technicians offer the kind of reliability and training (OSHA-30 certified) you can rely on when equipment goes down. We understand how critical lost time can be for any facility, and want you to count on our skills to see your operations back up and running fast.
Safety Innovation – Our innovative safety products group develops safety systems for forklift-pedestrian danger zones and other common industrial safety problems. This includes low-visibility areas, high-traffic zones, blind corners, workcells and other problem areas where people and industrial traffic mingle.
Deep supplier relationships
We pride ourselves on having some of the longest supplier relationships in the industry. These relationships with so many high-quality equipment suppliers means that we can prioritize projects for our customers and ensure performance more effectively than those companies that lack our buying power or track record.  Few competitors can match our influence with key manufacturers and strategic partners who provide critical expertise and custom manufacturing that can make your project successful.
These are just some of what we go over in our guide. We are proud of what we can offer to help any operation or project succeed, and we want you to know about it!
More resources
---
What can we help you with?