Cisco-Eagle's 2020 ESOP Poster
Designed by Joy Hunsinger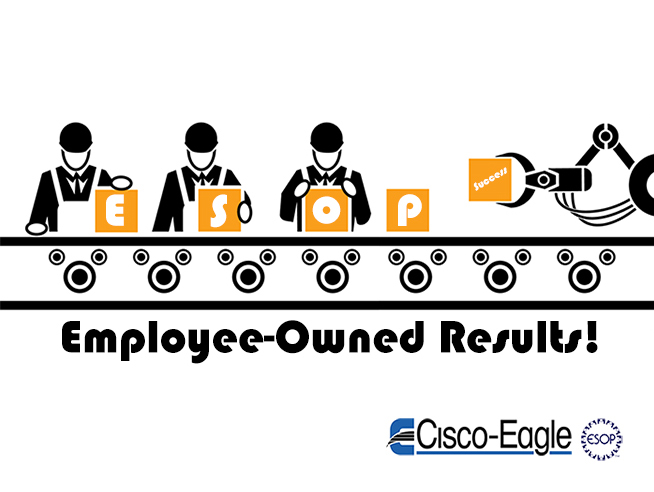 Cisco-Eagle holds an annual poster contest to celebrate our employee ownership culture. It's even more special because we became 100% employee-0wned during 2020. This is part of our effort to help us embrace the partnership culture that lets us deliver exceptional service. This year, Joy Hunsinger designed the winning poster.
Joy is a business analyst who works at our Dallas, Texas office. She is our CRM administrator and helps our sales, systems integration, customer service, marketing and other groups access critical information.
Joy's design incorporates conveyors and robotics, which are core parts of our product offerings.
"I liked the assembly line idea because it demonstrates that each and every employee's contribution is needed to build a successful business together. We are our own value. Also, I wanted to use a concept that represented our industry in some way as a hat tip to our customers who are as valuable to us as each employee," she said.
Cisco-Eagle solves storage, handling and material transportation problems, so a poster that plays on those capabilities is perfect for us.
The poster will hang in our offices this year, and will be submitted to regional and national ESOP associations.
About our ESOP ownership
Cisco-Eagle provides exceptional service by employee-owners. We believe that no one provides better service than an owner, and based on our customer service ratings, it appears our customers would agree. Our employees are all shareholders and partners in the business. We have been employee-owned since 2000. For more information about our ownership culture, visit our ESOP page. 
---
Scott Stone is Cisco-Eagle's Vice President of Marketing with more than thirty years of experience in material handling, warehousing and industrial operations. His work is published in multiple industry journals an websites on a variety of warehousing topics. He writes about automation, warehousing, safety, manufacturing and other areas of concern for industrial operations and those who operate them.
What can we help you with?