Shoptalk: How the Forklift Laser Tine Guide System Works
Laser sight lines help operators accurate place forks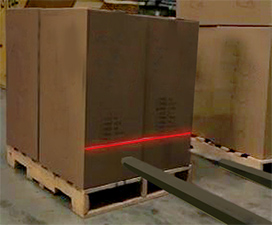 In this installment of Cisco-Eagle's Shoptalk series, Rodney, Regional Director of Arkansas, discusses the benefits of using the forklift laser tine guide system.
Accidents while loading pallet racks are a fact of life in warehouses and other industrial facilities resulting in damaged pallets, inventory, rack structure and injuries.  Accidents on high rack bays are more common as drivers often can't see where their tines are aimed as they pick pallets. And because this type of damage usually means lost inventory or dangerous falling items, these accidents are always expensive.  
Tine guides give your drivers a bright red laser that provides a constant and highly-visible visual reference, even high up in a rack bay. Drivers can see exactly where their tines will enter the pallets, and if they are aimed at a beam or at the palletized load. With a reliable visual guide, loading pallets at any height becomes safer and more efficient —which helps you reduce labor costs and product damage while your drivers work faster and more confidently 
Rodney, an employee-owner since 2013, highlights the ways your operations can benefit from these systems, and the different options available.
About Shoptalk
We're driven to help you identify, specify, and implement the right products and systems for your operation.
Every full-time employee owns shares in the company, is provided detailed financial information, and is trained to provide exceptional service. We think owners provide better service, and we can back it up. Our Shoptalk content is a series of informational posts, videos, and other information. We are empowered to get things done for you, and Shoptalk is just one more way we prove it every day.
More Resources
---
What can we help you with?