Fifty Years of Cisco-Eagle
Profound gratitude for our customers, vendors and employee-owners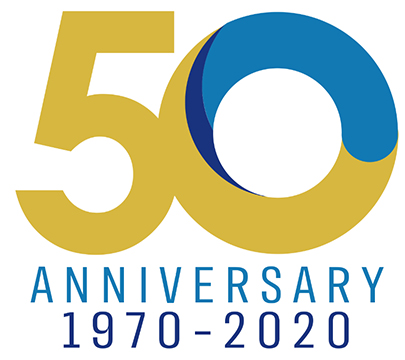 Cisco-Eagle was founded in November, 1970 in Tulsa, Oklahoma, by Warren Gandall. November 1, 2020 marks our 50th year of operation. It's a good time to reflect on what's happened since that first year and where we are headed as an organization.
The first order
On November 5th, 1970, Warren booked the first order in company history for $1,563.97. That day, Richard Nixon was president. Gasoline cost 36 cents a gallon. I'll be there by The Jackson Five was the number one song. The company at that point was called Eagle Material Handling, and was primarily a rack and shelving distributor partially owned by Inca Metal Products. There were only three full time employees. Everyone did every job in those early days–unloading trucks, taking phone calls, entering orders, picking stock and installing products.
In 1973, we added an Oklahoma City office and warehouse. In 1974, Eagle's employees purchased the company from Inca. At that point, Warren Gandall called his lifelong friend Bill Cupps. "I know you like to gamble," he said. "Have I got a gamble for you!"
Bill and Warren: the ideal partnership
Bill and Warren were the perfect match as business partners.
Warren Gandall excels in sales and marketing. He pushes for constant change and drives all of us to think differently; he likes to challenge preconceptions. Bill Cupps finds ways to make almost anything work; he's steady and relentlessly analytical, with a mind for both numbers and people. Bill and Warren had an important partner, Elbert Haggard, who would later run the company's Dallas acquisition, who brought a calm steadiness and a mind for process to the company.
"You probably couldn't find two more perfect partners, who both bring a different set of skills to a company." – Darein Gandall, Cisco-Eagle President
The company thrived those first years, driven by a variety of energy-industry customers during the thriving oil market in Oklahoma.
They decided to teach a generation of us how to run a company their way — a way that put people first, that values initiative and creativity. They realized that you didn't have to put people before profit. If you did, and you empowered people, profit would come.
"Bill and Warren," said Lisa Spry, who joined the company in 1990, "are two of the finest gentlemen I have ever known."
Our first large scale automated system
1981 changed everything. Eagle Material Handling purchased a new headquarters in Tulsa. We hired Vic Leonard as our first Systems Integration employee.
Kevin Harwell, who joined the company in 1992, said that Vic was known around the industry as "the man who could make conveyor do anything." We landed our first large material handling system that year—a $1 million distribution center for QuikTrip corporation. In those years, all drawings and revisions were done by hand. We had already started a relationship with Hytrol Conveyors, which remains one of our strongest vendor partners to this day.
"Employee ownership changes the way we work because we all have skin in the game." – Joy Hunsinger
Expansion timeline
The Cisco-Eagle merger
In 1985, Bill and Warren purchased Cisco Material Handling in Carrollton, Texas—a company that had been in business since 1953. Cisco was another Inca distributor. This was our first entry into the Texas market, which would eventually bloom into multiple offices in the Lone Star State, including our modern headquarters in Dallas. In 1995, Cisco Material Handling and Eagle Material Handling merged into one company, creating Cisco-Eagle. The company was relocated from Carrollton to Farmer's Branch, Texas and became our new corporate headquarters.
"The things that you do help the business expand and grow because you're part of the company, not just an employee." – Mark Palmer
Company culture
In the 1990s Warren and Bill made decisions about how to run the company and its culture. Cisco-Eagle had just merged into a single company, but was operated separately, and it was  good time to address how to ensure growth and productivity. They had never been micromanagers, but they wanted to develop a culture that was even more focused on developing leaders and fostering creativity among their employees.
Employee empowerment and transparency shapes our culture. We started a Total Quality Management initiative in 1994—a major influence to this day that enables employees to make changes and work in teams. In 1998, we adopted Open Book Management, which makes almost all financial information available to everyone. These were critical pieces that allowed the company to grow faster and innovate better than if it had been a conventional, top-down organization.
It was always about finding ways to empower people and give them the best information to serve customers and make good decisions.
Employee ownership

2000 was another year that changed everything, as Cisco-Eagle became employee-owned. We are now two decades into our employee stock ownership plan, or ESOP, and stronger than ever. Employee ownership has become a vital part of our culture, as we consider each other business partners. All Cisco-Eagle employees are shareholders and work together to take the company to new heights.
"One way I look at it is the amount of time people spend here," said Darein Gandall. "Our average employee-owner has been with us over ten years. That's double the national average. That's stability our customers rely on."
The next 50 years
Because the founders of Cisco-Eagle wanted their company to stand the test of time, they invested in their employees. They built a culture that attracts the best, and keeps them. They built a company where people have more control of their work, and naturally innovate more. They decided to make it employee-owned, providing their employees with a long-term equity stake.
"This company would not have progressed the way it's grown without each and every employee," said Elbert Haggard, who worked at Cisco-Eagle for over four decades. "We felt the way to repay those employees was to make them owners of the company."
At fifty, we're grateful to the friends, business partners and customers we've met along the way. Above all, we're grateful for the exceptional employee-owners who have consistently gone above and beyond to make it happen.
When I asked him about fifty years, Warren Gandall told me: "It was always about the great people we hired. You guys took me along for the ride."
About Cisco-Eagle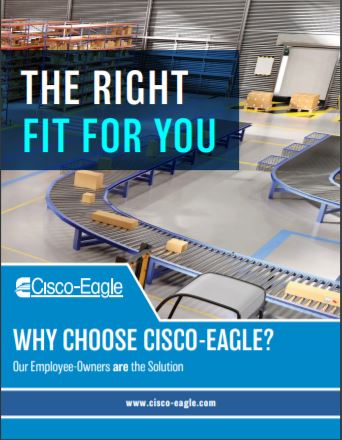 Cisco-Eagle provides solutions for the movement, storage, retrieval, control and protection of materials and products throughout manufacturing, distribution, consumption and disposal. Solutions involve the application of material handling equipment such as conveyors, carousels, rack, shelving, mezzanines and other important elements. More complex solutions may incorporate a higher level of controls, automation equipment and distributed intelligence. Cisco-Eagle's exclusive AisleCop® forklift safety system is deployed for safety operations at scores of top companies nationwide. The company serves customers in all U.S. states and over 70 other countries.
Additionally, Cisco-Eagle offers its exclusive repair, service and maintenance department, which can execute emergency service, scheduled maintenance, plant reconfiguration and installation through our Field Services division in our areas of service.
We believe in partnership
Download "The Right Fit for You", our story in PDF form, to read why we are the right fit for companies who seek an authentic partner for long-term success.
---
Scott Stone is Cisco-Eagle's Vice President of Marketing with more than thirty years of experience in material handling, warehousing and industrial operations. His work is published in multiple industry journals an websites on a variety of warehousing topics. He writes about automation, warehousing, safety, manufacturing and other areas of concern for industrial operations and those who operate them.
What can we help you with?