Cisco-Eagle's 2021 ESOP Poster
Designed by Christine Perry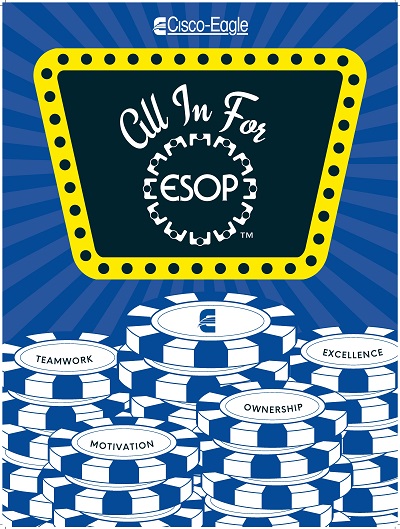 Cisco-Eagle holds an annual poster contest to celebrate our employee ownership culture. Being a 100% employee-owned company, we strive to create ways for our members to share their talents. This is part of our effort to help us embrace the partnership culture that lets us deliver exceptional service. This year, Christine Perry designed the winning poster.
Christine is an account executive who works at our Dallas, Texas office. An employee-owner since 2003, Christine strives to help her customers get the most out of their facilities.
Christine's design highlights our employee-owner casino theme for the 2021 year. Cisco-Eagle has been employee-owned for over 20 years, and a poster that resonates our commitment to being an ESOP is perfect.
The poster will hang in our offices this year and will be submitted to regional and national ESOP associations.
About our ESOP ownership
Cisco-Eagle provides exceptional service by employee-owners. We believe that no one provides better service than an owner, and based on our customer service ratings, it appears our customers would agree. Our employees are all shareholders and partners in the business. We have been employee-owned since 2000. For more information about our ownership culture, visit our ESOP page. 
---
What can we help you with?