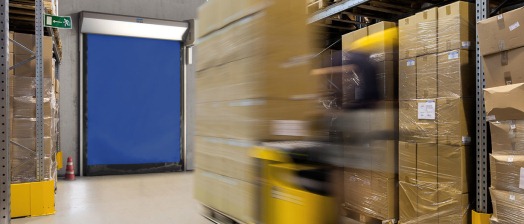 Somewhere in your facility, there may be a place where someone frequently shouts "shut the door!"
Perhaps you have operations that require maintaining temperatures within certain limits. There may also be areas heavy-traffic areas where a conventional overhead door's slow lift and close rates cause delays, slower throughput and cause reduced productivity from waiting on a door to open.
These are situations where a high-speed door may solve a variety of problems. From limiting airborne debris, dust and contaminant infiltration to temperature regulation, high-speed doors pick up the pace in your facility even as they limit the amount of exposure to negative environmental influences. They open and close so quickly that forklifts and people hardly need wait on the door in order to pass through the doorway. Let's take a few minutes to explore the types and key features of high-speed doors.