Am I Wasting Time: is Cross-Docking a Viable Consideration for my Company?
To best manage your inventory, you really need visibility into what you will be receiving, before receiving it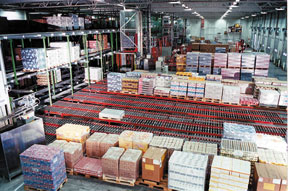 This article is the second in a series of articles on cross docking
In concept and on paper cross docking looks great, but, what about actual implementation? What kind of return do we get on this investment? The short answer is the implementation can be challenging. However, with planning, a committed team of upstream and downstream participants, and possibly even a pilot program, it can pay significant benefits.
Cross docking does not have to be complicated. Some, even today, execute cross-docking using human-readable paper documentation as the driver. As mentioned in the original brief, cross docking can cover a wide range of distribution activities. In one door and directly out the other is one approach. Many cross dockers also add value in the brief (hopefully) interval between receiving and shipping. Others send product to a temporary buffer in the interval, in many of these cases an automated system (mini-load, AS/RS, etc.) serves as the buffer.
What might we potentially expect from a successful implementation?
Reduction in capital investment in facilities and equipment (less space required)
Reduction in inventory
Reduction in personnel requirements
Reduction in order cycle time
Reduction in product damage (reduced touches)
Reduction in freight costs
What are the gotchas, why we might fail?
Facility layout is poor
Internal information systems are not integrated
Little or no integration and collaboration within your supply chain
Compliance by all supply chain partners
Selected the wrong products
Reliable suppliers (accurate, on time deliveries)
Sufficient volume of activity
Understanding peak workload variations
Information will make you or break you
To best manage your inventory, you really need visibility into what you will be receiving, before receiving it. Advance Shipping Notices (ASN) are what provide this visibility.
Most of you are familiar with these, and probably already use them in some form. With ASN's, you know what is arriving and when. With your Warehouse Management System (WMS) you know what is in your warehouse. Marry these with your order management system and you have the information necessary to match current inventory with order requirements, and get orders out the door efficiently (transportation covered shortly) You begin to see the need for cooperation and communication across the supply chain. The value (necessity) of EDI or internet connectivity becomes apparent. A level of information infrastructure is a must.
Supply chain partners are just that, partners in an integrated cross dock process. Select those that deliver products frequently, and deliver them on time. Most of you already have a solid handle on who are possible vendor partners, those with whom you are currently highly collaborative. Those whose products require a very limited number of touch points in the cross dock, if any touch points at all.
Touch points are work. Who does the work?
As a distributor or cross docker, identifying who "preps the products" for shipment is a fundamental consideration. For instance, incoming products were pre-labeled by the vendor for outgoing shipment (they did the work). Alternatively, the incoming products require labeling on your dock prior to outgoing shipment (you do the work). A third case might be the incoming products have been pre-labeled, but might need something additional, such as de-palletizing before outgoing shipment (we both do some work). A good answer to, "Who does what?" is "Who can do it most efficiently in the supply chain?"
Organizations that are process-driven, with a continuous process improvement mentality fit well in a cross dock environment. They tend to establish metrics, measure, and effectively use feedback for improvement. Those achieving high levels of efficiency will track and trace products throughout the entire supply chain to capture data which drives these improvements. Ongoing emphasis on training and education plays a key role.
In our next brief, we will touch on transportation, and then move into facility layout alternatives, what works, what does not, and links to a couple of good case studies and online tools. You are welcome to e-mail me with any questions or comments.
Upcoming briefs:
Cross dock layout alternatives that work
Getting started understanding a simple system (and costs)
Resources for additional information on cross docking. Both are worth a look.
Warehousing and Education Research Council's (www.werc.org) guide to cross docking: Making the Move to Cross Docking
Kevin Gue, Professor, Graduate School of Business and Public Policy, Naval Postgraduate School, numerous articles, research, and tools with a focus on cross docking (http://www.scivis.nps.navy.mil/~krgue/index.html)
---
This article is part of a series of articles on
Cross Docking
. Click on a link below to view one of the other articles.
Am I Wasting Time: is Cross-Docking a Viable Consideration for my Company?
---
Tags: advance shipping notices, cross dock, Cross Docking, dock layout, Supply Chain
---
What can we help you with?