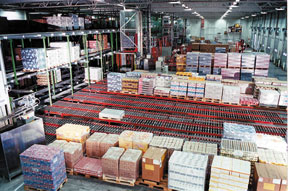 This article is the second in a series of articles on cross docking
In concept and on paper cross docking looks great, but, what about actual implementation? What kind of return do we get on this investment? The short answer is the implementation can be challenging. However, with planning, a committed team of upstream and downstream participants, and possibly even a pilot program, it can pay significant benefits.
Cross docking does not have to be complicated. Some, even today, execute cross-docking using human-readable paper documentation as the driver. As mentioned in the original brief, cross docking can cover a wide range of distribution activities. In one door and directly out the other is one approach. Many cross dockers also add value in the brief (hopefully) interval between receiving and shipping. Others send product to a temporary buffer in the interval, in many of these cases an automated system (mini-load, AS/RS, etc.) serves as the buffer.
---
This article is part of a series of articles on
Cross Docking
. Click on a link below to view one of the other articles.
Am I Wasting Time: is Cross-Docking a Viable Consideration for my Company?
---