Mobile weighing: getting it right means being able to weigh and count "on the spot"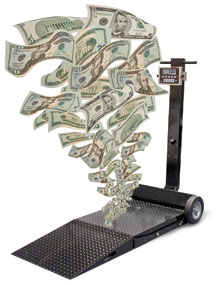 In dynamic distribution environments, accurate, fast weighing, counting, and dimensioning systems are more important than ever. This is particularly true in 3PL's and other operations where needs often change. Getting it right, and getting it quickly has become increasingly more important. One way is to utilize the newer mobile weighing systems on the market today.
Within efficient supply chains, products must arrive just in time and in correct amounts-by weight, count, or volume. How can you check? Mobile, battery-powered scales have driven changes in weighing processes in many warehousing, distribution, and manufacturing environments. These scales can be quickly located in the most effective areas to optimize facility process improvements and reduce the number of scales needed. Why engage in these practices?
Flexibility: Mobility allows mobile weighing to easily meet changing distribution and assembly layouts
Efficiency: Reduce product touchpoints
Easy relocation: Relocate your scale instantly, without the need to recalibrate
Ergonomics: Reduces manual product handling
Battery: Extended battery life, safe dc operation are important
Wide range of applications: Scales are available that can weigh containers, pallets, drums, cases, loads on hand trucks, and more
Durability: Get scales that are designed for abusive mobile applications
Applications include material handling, inventory control, shipping & receiving, warehousing, order fulfillment, cross-docking, and uses in security-sensitive environments. We can help you configure your mobile weighing solution to work within your system and for your application.
For instance, pallet jack scales let you weigh and transport your load right on the pallet (whether it's going out or coming in). Because an accurate weight can be taken of an entire shipment, you don't need to calculate shipments by individual product weights, plus pallet weight, plus dunnage. It's a real time-saver.
Another possible solution are these Mobile platform scales. They're a completely flat and stable surface to use during weighing procedures. The platform is able to weigh perfectly on all corners, meaning that off center or uneven weight distribution won't affect the accuracy of the scale. You can fit them with a ramp and roll a hand truck right on for easy weighing.
Tags: industrial weighing systems, inventory accuracy, Material Handling, scales, warehousing
---
What can we help you with?