Vertical Lift Allows Safe Passage at University of Texas Stadium
VRC "Lets the band come marching in"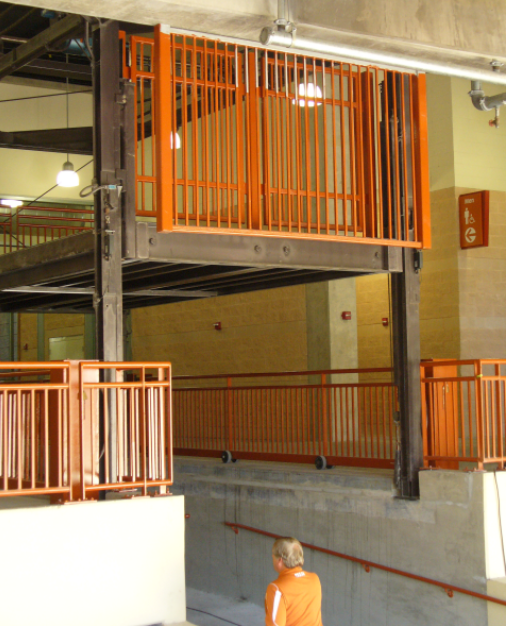 Typically, you see Vertical Lifts deployed in heavy industrial settings. They're frequently used in multilevel facilities, in manufacturing plants, or paired with a mezzanine.  Cisco-Eagle's Houston office broke that mold by implementing a lift in a unique application: to help the University of Texas marching band access the field.
How the system works
One of the critical challenges unique to this application was bracing and stabilizing the system to allow it to operate properly for years to come without obstructing the view of the game and being an aesthetic eyesore. We developed a way to minimize bracing to the stadium structure by containing a majority of the bracing within the lift structure itself.
Tradition dictates that the Texas band, cheerleaders, and Big Bertha, the world's largest bass drum, enter the stadium through the north end zone after a pre-game parade. The initial design had the band march from the street to the field down a ramp with a clearance of only 3 ft below the main concourse. When it was determined that Big Bertha would not fit down the ramp, the architectural team sought to find a feasible solution. After a thorough review of various options, a Pflow Series-F VRC was specified to periodically elevate a section of the concourse up 9 ft, creating a 12 ft high clearance for the band to safely enter and exit the stadium through the ramp that passes under the main concourse.
Pflow partnered on the project with Cisco-Eagle, a material handling company based in Dallas and a longtime Pflow dealer in the Southwest. After an initial on-site consultation with the general contractor and the project architects, Cisco-Eagle and Pflow collaborated with Pflow's industry leading engineering team and returned with an innovative solution. No other lift manufacturer came back with a proposal after the initial review phase, apparently assessing that the demands required of a viable system would be too great.

Tags: Lifts, Material Handling, pflow, vrc
---
Scott Stone is Cisco-Eagle's Vice President of Marketing with more than thirty years of experience in material handling, warehousing and industrial operations. His work is published in multiple industry journals an websites on a variety of warehousing topics. He writes about automation, warehousing, safety, manufacturing and other areas of concern for industrial operations and those who operate them.
What can we help you with?