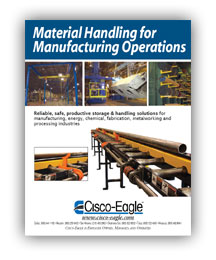 For decades, Cisco-Eagle has served the needs of heavy manufacturers, particularly those in the energy sector – oil, chemical, pipe and tubing, and other industrial based customers. With our operations in Texas and Oklahoma, that's only natural. We have recently released a brochure outlining our capabilities, "Material Handling for Manufacturing Operations." (PDF, opens a new window). This is a brief overview of our capabilities with the kind of handling equipment these companies require:
Work Cells
Drum Handling Systems
And many customized applications of various handling equipment.
We can send you a copy if you want one – just call customer service for assistance. Also, check out Manufacturing Case Studies for some detailed stories of industrial applications we have executed.