Factors for Distribution Center Sustainability
Industrial facilities are using less energy and becoming more efficient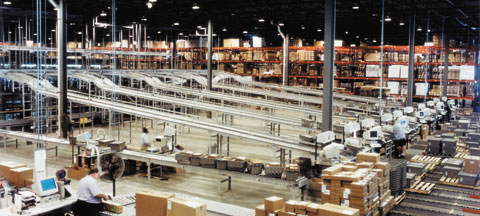 At Modex 2012, Hytrol Conveyor's Boyce Bonham sat down with DCVelocity to discuss distribution center sustainability. We've linked the video below, which is worth a few moments of your time. How do initiatives to work greener, smarter, and better affect warehouses and distribution operations? Not surprisingly, these initiatives often save money, at least over the long term.
Four main ways sustainability affects distribution
Transportation: Fuel costs are headed nowhere but up. This will affect the locations of distribution centers as new ones are being built. Because of this, DC's may not be as large as the mega-centers seen in the past, designed to serve a vast region. DC's may become smaller, and the number of them may increase. They could be located closer to customers. We are already seeing this with Amazon, Macy's and other retailers moving to more facilities designed to deliver to customers faster. This also reduces fuel usage.  This in turn may affect manufacturing, which due to the cost of transportation, may relocate closer to DC's and markets.
Construction: DC's will be built differently as sustainability initiatives are increased. This can affect building design and construction materials, the size of buildings, and the impact both the presence of and construction of can have on local environments, water supplies, etc. This can involve building in better energy efficiency, such as skylights or solar panels. Systems that reduce HVAC costs, such as HVLS fans or de-stratifiers may be specified during the construction phase. Energy efficient lighting is another way newer operations will adapt. Buildings will be constructed to conserve water, electricity, and other resources. Companies are already shooting more and more frequently for LEEDs certification.
Materials Handling Systems: Within a DC, much of the power used is consumed by material handling – whether by conveyors, robotics, forklifts, or ASRS systems. DC's will look to reduce peak energy consumption. This can be accomplished by using variable frequency conveyor drives that can adapt to the needed throughput requirements of a particular hour, shift, day, or season. While a system may need to operate at great speed during certain times, that speed is energy inefficient the rest of the time. Reducing it intelligently so that performance is adequate to the task  can save energy consumption. Another way Bonham mentions is to utilize 24-volt, non-centralized drives that can "sleep" when not in use.
Operational Standards: Many DC's can become more sustainable by process. They can work to straighten production lines to reduce travel/transport within their walls. They can increase reporting to help management understand where inefficiency exists.
To see the video for yourself, visit DCVelocity.

---
Scott Stone is Cisco-Eagle's Vice President of Marketing with more than thirty years of experience in material handling, warehousing and industrial operations. His work is published in multiple industry journals an websites on a variety of warehousing topics. He writes about automation, warehousing, safety, manufacturing and other areas of concern for industrial operations and those who operate them.
What can we help you with?