Safety and ROI for Industrial Operations
Safety systems and processes shouldn't hinge strictly on ROI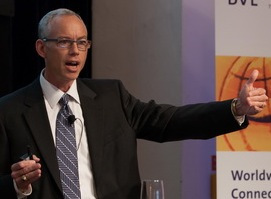 In a recent blog post, Auburn professor Dr. Kevin Gue, one of the bright minds in the country when it comes to the business of industrial distribution and plant operations, reflected on the reaction to his ProMat 2013 talk on "Designing a Worker-Centric Facility".  Gue has smart points about the relationship between safety and ROI – and how you can deal with those issues.
What warehouse, plant and factory managers should understand about safety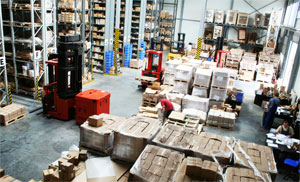 Management frequently takes action to address safety only after an expensive incident has occurred. It takes a costly, potentially tragic incident to move our needle from ROI and immediate profitability to prevention. But in many cases, major incidents don't occur. It's the longterm grind of lifting heavy objects and causing lower back issues over time. Gue speaks of equipment such as lift tables (and their cousins in the crane or stacker worlds), and the difficulty convincing managers of their need, as major expenses don't occur in a flash, but over time. A significant business case must be made, and it's difficult to do that when you are talking prevention.
Many safety advocates face the "if it ain't broke, don't fix it" syndrome. When no injuries have occurred, when expenses are low, and things are going well, how can you convince a plant manager he needs safety equipment or revised safety processes? He's pressured to deliver finished goods (or ship them, or process them) at the lowest acceptable cost. As Gue points out, he bought hearing protection for his sons for their woodworking shop without any thought to ROI. Is it possible to get managers in that mindset? Probably not — it's a different dynamic — but efforts should be made.
Managers can be ignorant of safety concerns on the plant floor. Workers who are on the front line need to inform managers of dangerous situations. They may not even be aware that an activity has significant safety or ergonomic impact.
Managers should personalize safety. Most telling, and I'm quoting Gue directly: "I wondered how many executives would hesitate to install reasonable precautions against long-term injury if their children were the workers." If you'd do it to protect your children, why not the people you are responsible for in a warehouse or on a factory floor? Most safety and ergonomic equipment purchases aren't going to break the bank, even if a major incident could. But take the money out of the equation: is it worth a few thousand dollars to prevent a worker from suffering a lifetime of back pain? A crushed foot? A concussion or knee injury? A life-altering injury of any kind? All those things will cost far more than the expense and time it takes to help prevent them, and nobody is saying that companies need to spend so much that it isn't profitable to run an operation, but the dollars involved are not that significant.
More information
Read Gue's blog "ROI vs. the People" for more details. Also, check out Cisco-Eagle's Safety Tips & Info article database for specific ergonomics and safety information.


Tags: ergonomics, industrial safety
---
Scott Stone is Cisco-Eagle's Vice President of Marketing with more than thirty years of experience in material handling, warehousing and industrial operations. His work is published in multiple industry journals an websites on a variety of warehousing topics. He writes about automation, warehousing, safety, manufacturing and other areas of concern for industrial operations and those who operate them.
What can we help you with?