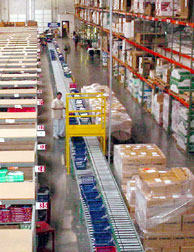 As it has every year for the last decade, DCVelocity Magazine has surveyed its readers and members of WERC to  find what industry professionals believe are the top metrics for a successful operation. This is instructive for most operations, and worth taking a look.  The full survey can be found here.
The top 12 metrics, and (category)
On time shipments (to customers)
Internal order cycle time (customer)
Dock-to-stock cycle time, in hours (inbound operation)
Total cycle time (customer)
Order picking accuracy (quality)
Lines picked and shipped per hour (outbound operations)
Lines received and put away per hour (inbound operations)
Percentage of supplier orders received damage free (inbound operations)
Average warehouse capacity used (capacity)
Order fill rate (outbound operations)
Percentage of supplier orders received with correct documentation (inbound operations)
Peak warehouse capacity used (Capacity)
Not everything on this list necessarily applies to every operation, but they are all worth some reflection. It's worthwhile to have the questions posed, as we all fall victim to the "forest and trees" syndrome.