Warehouse Safety Sensor Systems: Which Fits Your Needs?
Automated safety sensors warn pedestrians and forklift drivers to help prevent collisions, but which is right for you?
Safety Sensor/Warning Device Inquiry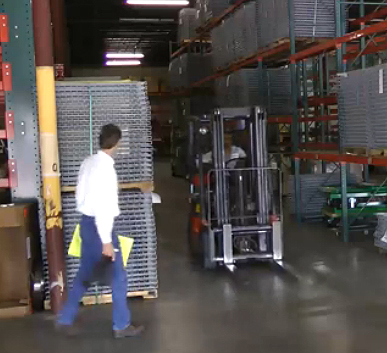 Safety is a major issue in most industrial environments – especially those where industrial traffic like forklifts, AGV's and other vehicles mingle with workers on foot. There are just too many ways people can get hurt; too many chances for things to suddenly go wrong. That's why including some automated safety sensor systems in a facility can make a life and death difference on a day-to-day basis.
Safety sensors come in many varieties and serve varied functions from detecting warm bodies to reacting to mass proximity. They detect motion, infrared light wavelengths, heat signals and more. But how do you know which system you need?
Define the danger first
As you make your list of possible improvements, you will begin to see what devices will best correct the danger potential, such as safety gates, flashing lights, and sensors. You can then look into the effectiveness and cost of such enhancements, and, the potential cost of not making a change.
Sensors just make sense
Sensors take safety and make it an active process rather than passive such as using mirrors, tape, and other measures. With sensors detecting the potential for danger, there is an active response such as gates closing, lights flashing or sirens going off – and it all happens automatically.
Gate systems
Rack aisle anti-collision systems
Dock door systems
Traffic intersection protection
Is your safety program effective?
No matter how many sensors you have or bright lights flashing, safety will not improve unless your safety systems make sense, are consistent in how they are set up, and appropriate signage is in place. Even then, you should follow up with regular safety training for all employees and visitors. The people in your plant need to know what all those sensors are trying to tell them.

Tags: forklift safety, industrial safety, infrared sensor, motion detection, safety sensors, safety systems, traffic management
---
Scott Stone is Cisco-Eagle's Vice President of Marketing with more than thirty years of experience in material handling, warehousing and industrial operations. His work is published in multiple industry journals an websites on a variety of warehousing topics. He writes about automation, warehousing, safety, manufacturing and other areas of concern for industrial operations and those who operate them.
What can we help you with?