Warehousing Optimization: Standards, Data and Time
Guidelines for a superior storage and handling operation
When it comes to warehousing operations, there are many ways to approach a continuous improvement project. You can automate, you can reorganize. You can employ a consultant. Three of the constant factors are time, standards, and data. Here are some insights on each of these important areas:
Set standards
A standard productivity rate is something every warehouse operation should calculate and use. Spend time with your employees to review performance, and perhaps create incentives to reach those goals. Provide the needed tools, equipment, education and support for your people to succeed.
More help:
Live by the data
What data can you easily get? Start there, and use it. Your WMS, WCS and ERP systems should yield plenty of information.
But don't stop there. Are there things you'd like to know, but can't easily get? Work with your IT department and managers to obtain it, even if you have to use a manual collection system. Once you start to build data, you can look for the pareto points, where the fewest resources will yield the best results. Look for logical inconsistencies—things like the time between a pick is scanned in, and when it's confirmed as a picked item, then a packed item. What causes the lag, if this is too much time? Which product slots are constantly being replenished, and is that too often? What products move so slow that they should be addressed?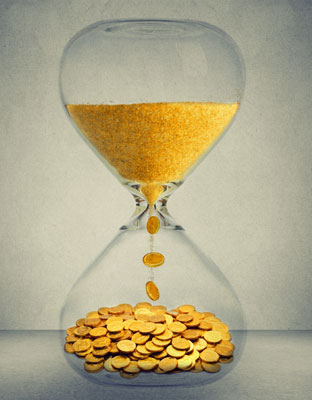 Understand what you truly need from your time
Time is the one quantity you can't buy more of, so using it effectively can make or break your operation. For instance, let's look at order picking speed. You can take an order from entry to bin very quickly if that's the goal.
But it shouldn't be — not every time.
If you have read about recent emphasis on same-day shipping, and that's the goal, then speed is the focus. If your customers expect the order to drop the same day they placed it, you must fulfill that need. Otherwise, moving an order into the system to be served as soon as possible may be counterproductive.
For instance, if you push orders to pickers as soon as they arrive, you may jeopardize efficiency. If an item is order 25 times in a day, pushing orders in real time will cause pickers to access that location 25 times rather than once. If these orders demand quick shipment, that's fine. But if they don't, you're duplicating activities (walking, picking, accessing) that could mostly be combined into a single or a couple of actions. The point is, understand what you need from your time—and act accordingly. In this case, a batch picking strategy fills customer needs nicely but doesn't send your pickers across your facility multiple times.
Tags: benchmarking, data, facility optimization, lean warehousing, wcs, WMS
---
Scott Stone is Cisco-Eagle's Vice President of Marketing with more than thirty years of experience in material handling, warehousing and industrial operations. His work is published in multiple industry journals an websites on a variety of warehousing topics. He writes about automation, warehousing, safety, manufacturing and other areas of concern for industrial operations and those who operate them.
What can we help you with?