Space Saving Storage Systems for Rack and Shelving
Eliminate aisles to increase storage density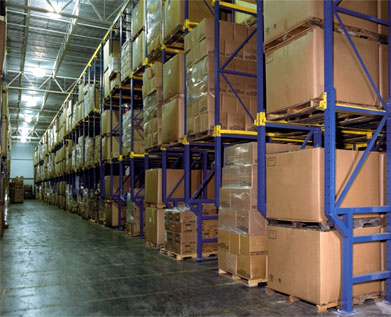 As a business grows, usually storage demands also increase, leaving you facing choices like storing goods off-site, relocating to larger facilities, or turning to a third party for warehousing or distribution – choices that increase overhead costs year over year. What if you could avoid those choices and increase available space in your existing storage by removing the aisles between the rows of racking and even shelving?
High density storage methods?
Pallet flow, pushback, and drive-in systems are all high-density storage equipment (see Selectivity vs. Storage Density). They're all useful in the right situation and inventory mix. W
All shelving, save for mobile aisle, is the equivalent of a selective rack – the units are configured in rows that require an aisle in between for access.
What about safety concerns?
These systems have technology that triggers an emergency stop if an eye beam is broken by a person or object stepping into a closing aisle, halting all motion in the system. Once the obstruction removed and the beam is cleared, the system can resume operation.
What about time spent waiting on the aisle to open?
Generally, by the time a forklift, pallet jack, or cart travels down to the desired row position, the system will have completed its travel, especially if the system is controlled by a WMS or remote control system. The system provides plenty of access, but a little slower than a selective system does. Some companies maintain fast movers on a few aisles of selective or pushback, and then utilize mobile aisle to store higher density products that aren't accessed quite as frequently.
What applications benefit from these systems?
Business – intelligent storage option for business records, reference materials and more
Industrial – save floor space, improve workflow and consolidate material handling procedures
Education – organize and compress storage space needed for books, education materials and supplies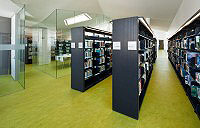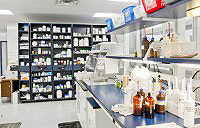 Libraries – high density filing and shelving solutions for literature and document preservation
Public Safety – secure storage for corrections units and law enforcement facilities where security is a primary concern
Healthcare – pharmaceutical and supply storage is more organized and consolidated to preserve floor space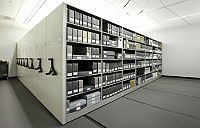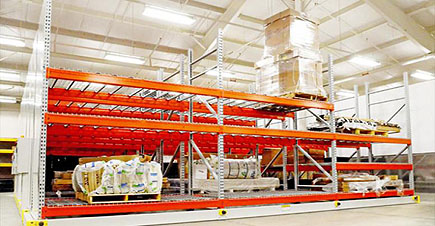 Museums – protect and organize exhibit storage, collections, and artifacts in a space-saving manner
Government – expandable file and records storage that is easy to retrieve individual records from
Military – high density records storage, consolidate supply and equipment storage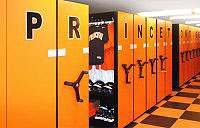 Athletics/Sports – storage and racking of equipment and materials
Retail – conserve space and consolidate inventory in the warehouse area
Residential – space saving personal storage
What's the return on investment?
Return on investment is actually very good because of cost saving advantages you gain: lower product costs, streamlined workflow, improved inventory management through consolidation, and improved floor space usage.
Since these systems work for shelf storage, too, your order pick operations areas can be consolidated as well as your long term rack storage. Give us a call – we can help you nearly double your storage space, too!

Tags: high-density storage, mobile aisle, mobile rack, mobile shelving, Montel mobile aisle systems, space savings
---
Scott Stone is Cisco-Eagle's Vice President of Marketing with more than thirty years of experience in material handling, warehousing and industrial operations. His work is published in multiple industry journals an websites on a variety of warehousing topics. He writes about automation, warehousing, safety, manufacturing and other areas of concern for industrial operations and those who operate them.
What can we help you with?