Can You Outrun Warehouse & Factory Safety Phantom?
The Spectre of improper safety standards can wreak havoc on a facility, unless you face your fears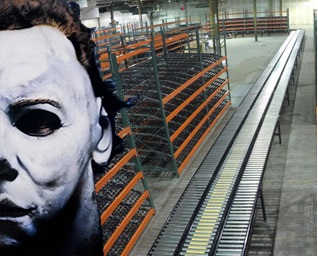 You try to run away as fast as you can, aware of the scary apparition chasing you with each breath. You turn to look back, and stumble onto the ground. Paralyzed with fear, you watch as the shape moves closer and closer. Suddenly up close, you can see that there was no way you could escape, as safety issues could not be stopped.
Blumhouse horror movie? Not really. Warehouses can be dangerous places to work in. It is important to understand common warehouse dangers and hazards because they can cause injuries and in extreme cases death, haunting your warehouse for years to come. The US Bureau of Labor Statistics reported an average of 16 fatalities every year in the US warehousing and storage sector and a reported injury and illness rate of 5 out of every 100 warehouse and storage workers. With these ghastly statistics in mind, we review some of the most common warehouse safety bogeymen and offer tips and resources to help you avoid their terror.
---
What can we help you with?