Innovative Ways to Secure Your Facility with Wire Partitions
Control access to valuable tools, inventory and machinery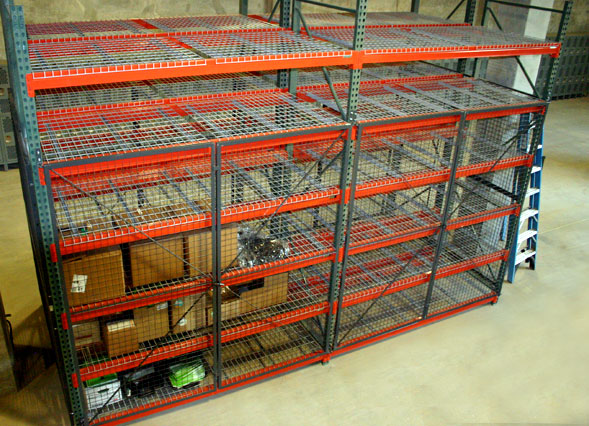 The typical application for a warehouse wire security cage is on the floor, in the plant, to create a secure storage room or tool crib. This usually means something with one to four sides, depending on the surrounding areas, a gate (or more than one), a ceiling, windows, or other additions. What are some ways you can create security beyond the simple cage?
Aside from the standard 1, 2, 3 and 4 side cages, you can also build L-shapes and other configurations that fit a specific need. But what are some of your other alternatives?
Create a gate at plant egress points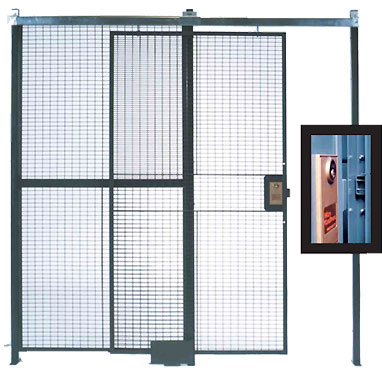 It's pretty easy to erect a lockable security gate at the door between your plant and office areas. People do this so they can lock the warehouse away from the office. Maybe there is a need to control access one or both directions, or there are visitors in the warehouse you don't want wandering into office or other production areas. This is frequently done at datacenters, to lock down a row of servers.
Areas that could benefit include:
Passage between plant and warehouse
Access to work cells
Areas where there is access to power systems, sensitive equipment, or other places people should not wander into without permission
Whatever the reason, a simple gate/post system may allow you to quickly close off an area without much expense or time spent.
Secure a staircase or landing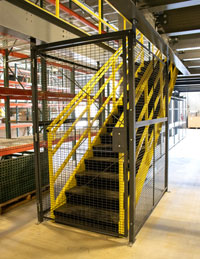 This can be done to control access to and from a mezzanine, catwalk, or other elevated platforms. Typically, you're securing inventory or tools at the top of a platform from general access below. This is often an inventory security application, but could also help reduce fall issues for some types of elevated platforms. Either way, the concept is to deny access to those who don't need it.
It's an inexpensive way to ensure people who aren't supposed to go up stairs cannot do so. These are created usually with a "surround" that denies unauthorized personnel access to the stairs. They can be erected either on the floor (right) or on a landing. It's not recommended to create a locked door at the top of a staircase for safety reasons, unless that doors is on a flat surface (landing).
Create "driver cages" to control facility access at dock areas
Driver cages have become ubiquitous in many dock facilities where there is a need to admit truck drivers to the building, but not the entire facility. The driver cage concept allows you to contain visitors who come into truck docks, making sure only those you authorize are permitted into the facility.
Install a cage under, around or on top of a mezzanine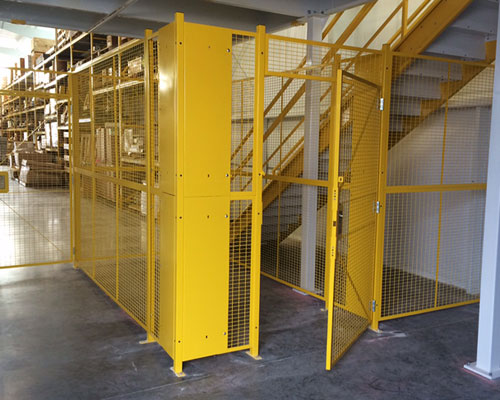 When you have secure inventory to protect, a mezzanine is often used to concentrate that stock into one area. Cages are great for limiting access to whatever is stored on or beneath a platform.
High-density mezzanines are great for packing a ton of inventory into a little space, but there are times where you will need to control that floor-level access instead of (or as well as) the platform. This is a pretty common application and is easy to spec and install. This concept allows you to use the platform underside as a ceiling rather than adding one to your partition.
You should be cognizant of access points (do you have the right kind of gate, and are there enough egress points?). If the area beneath a mezzanine is serving parts, add service windows that let an employee inside hand out stock. You can add a cage around the entire mezzanine, on top, or on the floor in just about any configuration.
In a plant where many people need access, biometric locks add a layer of identification to the secure area, since you can key the lock to specific personnel. Some systems allow tracking of access to the secure area.
Turn your pallet rack into a secure storage cage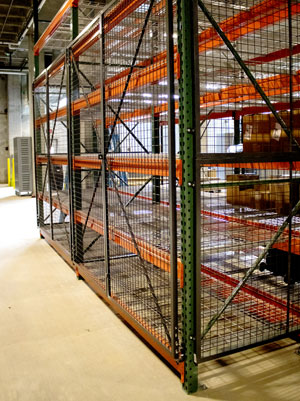 High-value palletized inventory has been a security issue for many facilities. Rack-mounted security cages are ideal for secure storage that uses the vertical cube. They can be fitted to most any size of teardrop racks and can have either sliding or swing gates to fit the situation. They're also used on the back of a pallet rack to help reduce product and pallet drops into work aisles, so they can add a dimension of safety to your facility. You can cage out four sides of a single bay, or create a long run of secure storage by running front and rear panels, with side panels to close each end.
Standard systems available in 6′, 8′, 9′ and 10′ widths
Heights of 8′, 10′ and 12′.
Depths are 2′, 3′, 3'6″ and 4′ to fit most types of standard racks.
If you have an application outside standard sizes, these cage systems can be customized to fit it.
The doors are full beam width, so you can access everything inside either by hand or forklift.
Create secure spaces in offices, banks, etc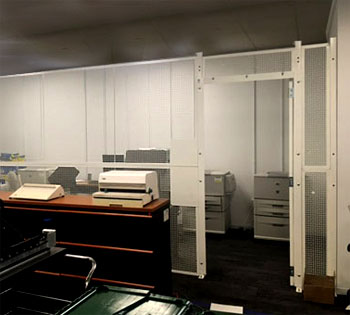 The industrial gray, tough-guy wire cage is typically used for industrial facilities, but other colors and sizes are often needed for office applications. Wire cages can be finished in most any color to match office decor. They're used in high-security office areas at casinos, banks and other financial institutions and other office applications. For office/indoor applications is that these cages are built with the tough, ten-gauge wire rather than flimsier nonindustrial cages. They meet regulations for certain types of storage needs like financial and pharmaceutical areas.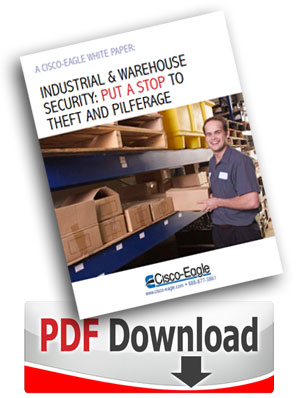 The standard mesh is a ten-gauge wire woven into a 2″ x 1″ rectangular style. Star Equipment was informed that a much more secure mesh would be needed. Wells Fargo decided to stay with the ten-gauge wire but with a much tighter 3/4″ square mesh.
While many industrial applications use 2 x 1 rectangular mesh, a tighter mesh of 3/4″ is needed for applications where small items like pill bottles, components or currency might pass through the mesh.
Protect retail locations and storage
For many retail operations with valuable inventory (tools, firearms, jewelry, etc.) protected only by glass storefronts, wire security cages and partitions can be a viable way to add a layer of protection from quick-strike thieves. It can also be used for secure overnight or inventory storage. Cages can be built into a variety of configurations, fit with any space needed, and specified with locks ranging from padlocks to biometric locks. You can also add wire mesh window panels to secure windows from thieves in any retail or warehouse area.
Final thoughts
Plant security can be tough, but there are ways to secure almost any area. The standard "box" cage is only one avenue for better access control and facility security. For more information, contact us today.


---
Scott Stone is Cisco-Eagle's Vice President of Marketing with more than thirty years of experience in material handling, warehousing and industrial operations. His work is published in multiple industry journals an websites on a variety of warehousing topics. He writes about automation, warehousing, safety, manufacturing and other areas of concern for industrial operations and those who operate them.
What can we help you with?