Employee Ownership and Productivity
We're employee-owned, but what does that mean to our customers? Better service, more consistency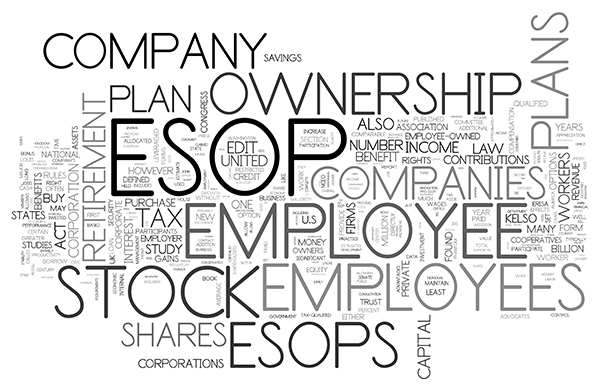 It's common sense: if you deal with a business owner, you get better service
People with a stake tend to be more proactive than people who just work at a company. And while there are plenty of dedicated, service-oriented employees at companies that aren't employee-owned, owners are more productive according to academic studies.
Plenty of evidence
There isn't any guarantee that an employee-owner will outperform employees at other types of companies, but the research holds that it's generally the case. Great companies come in all sizes, shapes and ownership models. Superior customer service culture must be developed from within. You can get great service from companies ranging from mom & pop to Fortune 100, but according to the research below, employee ownership gives ESOP companies an advantage that's hard to replicate.
Studies on ESOP company performance
In 2018, the Employee Ownership Foundation surveyed its member companies. 67.4% of the respondents stated that ESOP implementation increased productivity. At Cisco-Eagle, we've found that to be true, especially when paired with open book management and transparency. All our employee-owners have complete access to all financial information — from net income to what we spend on pencils. That transparency combined with a culture of ownership has allowed us to thrive and grow.
Another study — conducted over a ten-year period by Rutgers University's Dr. Joseph Blasi and Dr. Douglas Kruse — was larger and more comprehensive. Their study concluded that ESOP companies increased sales, employment, and sales per employee by up to 2.4% annually over what those companies may have generated without an ESOP.
The Rutgers study also examined the longevity of employee-owned companies vs. that of other ownership models. The research revealed that 77.9% of ESOP companies survived during the decade of study, while non-ESOP companies survived at a much lower rate — 62.3%. For companies who want to partner with a long-term provider, that's critical (note: surviving in this case means that the companies continued to do business as the same entity. Companies that were acquired, closed or sold were not considered to have survived).
How does all this affect service?
Everyone knows the companies that provide stellar service, and everyone knows that it can come in all shapes and forms. Family-owned businesses and national chains can provide great service. A culture of service must be built from within, no matter who owns the company. Resources are also critical; a company that can't push critical resources into play can't serve its customers, no matter how hard its people try.
Employee-owners have skin in the game
People think and act differently when they have a direct financial stake. Our people have a deep understanding of how their company stock is affected by their actions. They serve customers better because they're building value in a company that they own. It makes us more proactive and more innovative.
Employee-owners see the long game
We built our service culture at Cisco-Eagle on the fundamental notion that good service becomes great service when we all have a stake in the outcome. Most people understand that if they want to stay with a company, that company has to retain its customers, but it's different for shareholders. We wanted to take it to a higher level — not only would we survive and thrive, we'd all see the value of our shares increase. Being employee-owned means that our people see the long game and serve customers with that attitude.
Employee-owners stay with their companies longer
This one is critical.
At Cisco-Eagle, we have long term employee-owners empowered to make the right decisions to please customers. We retain our employees more than twice as long as the national average, so we develop expertise and experience. That means we retain expertise and knowledge better than most companies. In our business, that's even more important, as material handling and storage operations require specialized knowledge and consistency — the kind of expertise we nurture and retain.
If your warehouse was built in 2010, it's comforting to know that you can come to us for a revision and usually deal with the same people who originally designed your conveyor system or storage equipment in 2020.
Employee-owners are empowered and have all the information
One of our longtime salespeople once told me that "I make mistakes, but I've never been so much as questioned when I spent money to make the customer whole." That's key. All our employee-owners have complete access to all financial information — from net income to what we spend on pencils due to our open book management philosophy. That transparency combined with a culture of ownership lets our people have a full understanding of the costs — including the costs of losing a customer over poor service.
This helps us be accountable, and to understand more than just our corner of the business. When it comes to serving customers, independence, knowledge and resources help us make better decisions.
It adds up to better service
People — individuals — can be great at service because they're caring, competent and conscientious. But organizations that aspire to be great at service must have systems and processes. Ours combines employee ownership with training, measurement and transparency, and it works. We've linked our service metrics below, which both are generated by our customer feedback and published on this website — we believe in transparency inside our company and outside.
If you have questions about employee ownership, let us know.
More information
---
Scott Stone is Cisco-Eagle's Vice President of Marketing with more than thirty years of experience in material handling, warehousing and industrial operations. His work is published in multiple industry journals an websites on a variety of warehousing topics. He writes about automation, warehousing, safety, manufacturing and other areas of concern for industrial operations and those who operate them.
What can we help you with?