Conveyor Belt Specification
How to select the right belt surface, material and style for your application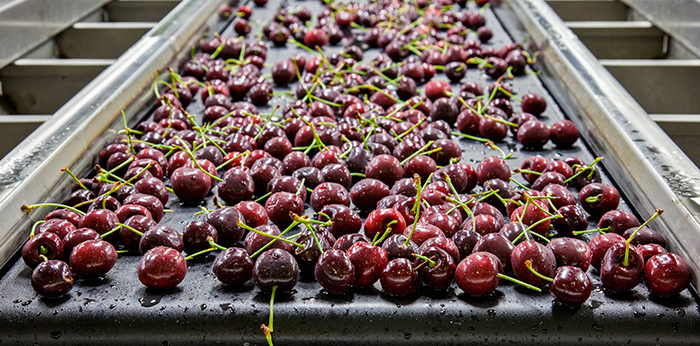 Belt conveyors are used in applications where loads need more support than rollers can give them, usually for things like cartons with irregular bottoms, bags, components and similar loads. They're sometimes used for small parts, produce or components. The type of belt you specify will usually tie directly to the application, load and operational environment. Here are some questions to ask when you are specifying a conveyor belt.
Conveyor application is always a factor. If you're executing transport with the belt, the challenges are very different from those presented when you must position product, accumulate it, index it or divert it.
What load are you conveying?
It's always important to understand your load for conveying applications. You should know the dimensions, shape and weight of your loads.
Your load should be the right size for your belt and fit comfortably on it. If it weighs too much for the conveyor's specifications, it may fail to convey, convey slowly or even damage your drive.
Conveying an item with sharp edges or protrusions can damage a belt when it's not specified to handle that abuse. There are cut and puncture resistant belts, PVC, steel and other surfaces that can handle damaging loads, but that must be known before the conveyor is ordered. Very heavy loads may require a belt-over-roller design rather than slider beds, even if the load is smooth. Very light loads like envelopes or blister packs may also affect the decision you make. There are many variables, and we can help walk you through them.
What is your conveyor's end point?
Conveyors tend to have one core mission: the effective delivery of product from one point in a process to another. This may be from picking to packing, from assembly to packaging, from tear-down to disposal, from a storage area to a machine integration. Whatever your conveyor is doing, its end point may affect the belt that you specify. For instance, if gaps between loads are needed, cleats help provide more specific spacing. If you're integrating to a machine, a belt may need troughs, or may need to be resistant to moisture or sparks.
Do you need high or low friction belting?
The coefficient of friction measures the way two objects react to each other. Basically, it's how much friction your conveyor belt has in relation to the thing you're conveying. Sometimes you'll want significant friction and sometimes not. Belts with less friction should be used for accumulation or sortation, where your load needs to move across or slide on the belt while the conveyor is in motion. When you need stability and consistency of placement, high friction belting grips the load and allows you to incline or decline the load without fear of box tumbling.
Belt surface properties: construction and texture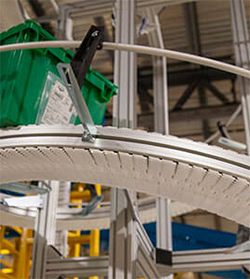 Belts interact with their loads based on their surface properties.
Nitrile-impregnated belts are typical for packages and totes in typical distribution facilities. They're fairly oil-resistant and handle those types of loads well.
For a higher coefficient of friction, polyurethane surface belts can handle temperatures and incline/declines better.
PVC covered belts offer better belt tracking in difficult applications, and are resistant to abrasion and higher levels of abuse. For inclines, they should be specified with rough tops to hold conveyed items in place better.
Thermoplastic covers are easier to clean and good for food applications where easy cleaning and FDA/USDA compliance are needed.
Very rough top nitrile surface belts are ideal for greasy/oily loads. They can maintain grip better than flat surfaces in these applications.
Wire mesh belts are ideal for transporting cold items from a freezer or hot items from an oven.
Steel slat belts are built for rugged loads and hot areas like heating or drying.
Glide top nylon belts with smooth tops and friction bottoms are low-friction for load divert processes.
Plastic chain belts are ideal for light loads of various sizes.
Many other belt styles are available for a broad range of applications.
What are the temperature & environmental considerations?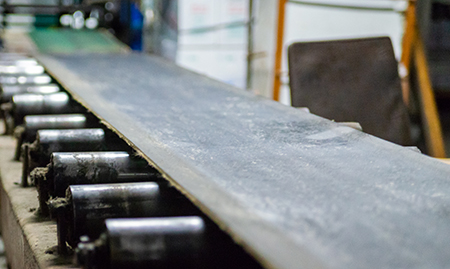 For most general warehousing applications, conveyor belts will operate within spec, but you should still understand what the ambient operating temperature will be in your facility as the conveyor operates. In certain applications, where warm or hot parts are conveyed, special belting may be required. If you're conveying in a cold zone, your belts may become brittle. In very hot areas, belts could stretch or stick. They may become delaminated at the splice area. It's important to know what type of environment you'll be conveying in for the conveyor mechanism itself and the belt in particular.
For clean room or any environment where particulate reduction is critical, you may want to order belts with sealed edges. In moist area or wet applications, certain belt types can be specified because they withstand moisture (or can also be cleaned in a sanitary food or pharma application). The most common reason belts fail is contamination. They become worn due to grit, debris, oils and more. If your conveyor will be used in these areas, the right belt will convey better, require less maintenance and last longer.
Help with belt selection
If you need help with choosing the right belt (or with any other conveyor questions), you can rely on Cisco-Eagle's decades of experience. Contact us for fast assistance. You can also download our conveyor guide for further reading.
---
Scott Stone is Cisco-Eagle's Vice President of Marketing with more than thirty years of experience in material handling, warehousing and industrial operations. His work is published in multiple industry journals an websites on a variety of warehousing topics. He writes about automation, warehousing, safety, manufacturing and other areas of concern for industrial operations and those who operate them.
What can we help you with?