Shoptalk: Pushback Rack For High Density Storage
Maximize space without slowing down inventory rotation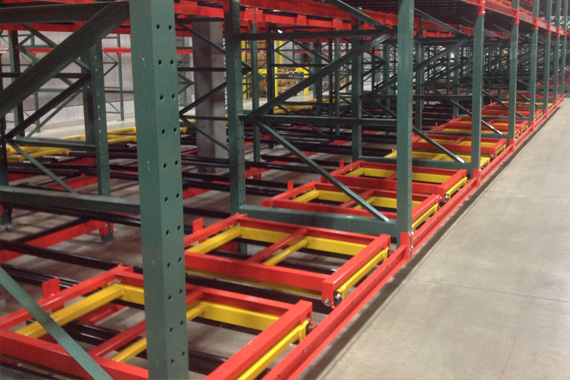 In this installment of Cisco-Eagle's Shoptalk series, Matt, who works in our Houston sales division, reviews the advantages that a pushback rack system can have in multiple aspects of warehousing and storage.
Pushback rack gives you the option to store more pallets in the same bay than selective racks, while offering easier access than drive-in solutions. If your load works in a last-in-first-out (LIFO) inventory rotation, it's probably the best compromise between high density and easy access.
Matt, an employee-owner since 2016, explains how pushback rack can help you achieve more efficient storage.
We highlight some important benefits of using pushback rack:
Space Saving – Because pushback racks are loaded and unloaded from one side, they can be installed against a wall, eliminating another aisle to achieve greater storage density.
Pallet Access – Pushback racks accommodate pallets ranging from two to five deep, giving you many options. Unlike drive-in racks, every level is independently accessible. The carts the pallets are resting on are color-coded for easy visual inventory.
About Shoptalk
We're driven to help you identify, specify, and implement the right products and systems for your operation.
Every full-time employee owns shares in the company, is provided detailed financial information, and is trained to provide exceptional service. We think owners provide better service, and we can back it up. Our Shoptalk content is a series of informational posts, videos, and other information. We are empowered to get things done for you, and Shoptalk is just one more way we prove it every day.
More Resources
---
What can we help you with?