Cisco-Eagle is 100% Employee-Owned
We increased our ESOP from 70% to 100% in 2020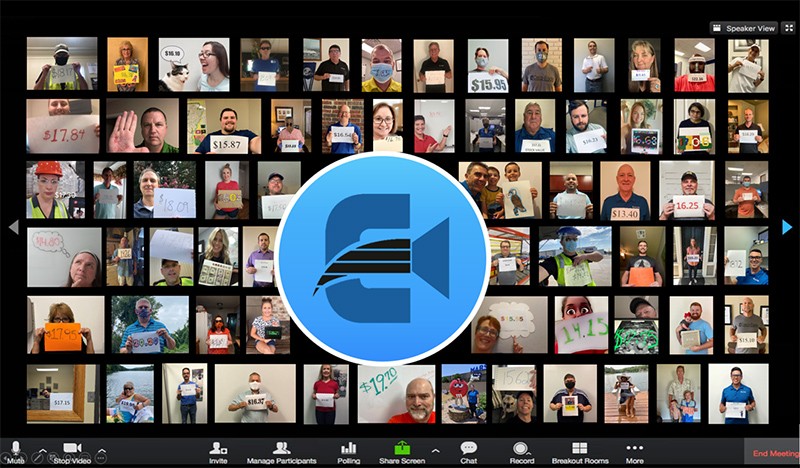 Since 2000, Cisco-Eagle has been 70% owned by our employees. That all changed on August 27, 2020, when our ESOP Committee announced at our annual stock price reveal meeting that the company has become 100% employee-owned.
Why 100% employee ownership matters
Because 100% employee-owned companies do not pay corporate tax, we're able to shift resources into adding resources that increase our capabilities and value. Cisco-Eagle has always been focused on long-term value, stability and partnership, which is enhanced by employee ownership. This means that we will be able to focus on relationships with these partner-customers for the long run.
"We retain people over twice as long as most companies in America," said Cisco-Eagle President Darein Gandall. "We attract the best of the best and then we develop them. We treat them like family — like the partners in this company they are. We give them transparent and accurate financial information and real autonomy to get their jobs done and serve their customers. It makes us more innovative. It gives our customers an exceptional experience with a team they can rely on to be here for years and years. That's the kind of reliable, stable relationship we bring to our customers."
100% ownership is more than symbolic; it's a symbol of our durability and innovation. Due to our open-book philosophy, everyone at Cisco-Eagle has access to almost all financial records. Everyone is aligned around our company's overall success, not just their own department or work.
How did we get here?
It's not always been easy. Following our initial roll-out, America suffered the tragic terrorist attacks of 9/11. Like many other companies, we suffered during the financial crisis and Great Recession of 2008. We came together and worked hard. We watched our expenses and worked to satisfy customers. Like many others, we scrambled to respond to the pandemic of 2020.
The journey wasn't always easy but we worked hard, built the business and distributed shares to our people.
This milestone represents the hard work and aspirations of nearly 130 employee-owners. It's the dreams of our founders, Warren Gandall and Bill Cupps all the way back to 1970. It's years of work and sacrifice.
Exceptional people: extraordinary partners
We have extraordinary people at Cisco-Eagle, the kind who can work hard enough to increase the value of their stock by a factor of almost 10 over the last 7 years — and 50% this year alone. They solve problem and provide exceptional service. They're the kind of people who will spend the night figuring out a problem, or work on a Thanksgiving to get a customer's conveyor running. They're the kind of people who lift each other up in tough times.
My partners here at Cisco-Eagle are the kind of people who would perform at a high level anyway because of who they are. Because we're all partners in this business I think it adds another level. It makes us more aware of how we can please customers. It helps us be more responsive to each other.
If your people have access to information, an ownership stake and the autonomy to innovate, you empower them to serve customers in a way most other companies can't match
About our ESOP ownership
Cisco-Eagle provides exceptional service by employee-owners. We believe that no one provides better service than an owner, and based on our customer service ratings, it appears our customers would agree. Our employees are all shareholders and partners in the business. We have been employee-owned since 2000. For more information about our ownership culture, visit our ESOP page. 
---
Scott Stone is Cisco-Eagle's Vice President of Marketing with more than thirty years of experience in material handling, warehousing and industrial operations. His work is published in multiple industry journals an websites on a variety of warehousing topics. He writes about automation, warehousing, safety, manufacturing and other areas of concern for industrial operations and those who operate them.
What can we help you with?