Vertical Pallet Movement Options
Scissor Lifts vs. Vertical Conveyors vs. Other Methods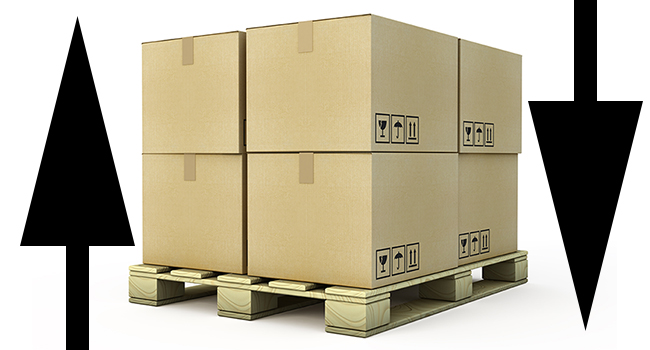 In modern warehouses and manufacturing facilities, the vertical cube should be fully exploited, meaning that you should use overhead air space in your storage and processing operations because it's less expensive and more efficient. Before you expand or relocate, it's always better to use that space. You've already paid for it and the environmental costs of using it.
Using that space comes with some limitations. One is that you'll need to transport pallets up to mezzanines or other machinery. While that's more difficult than moving cartons or other lighter loads, there are ways. Let's examine some of those options.
Vertical reciprocating conveyors (VRC's) move pallets between levels. They provide fast, efficient, convenient and safe access to/from mezzanines, balconies and basements, and between levels in multiple story buildings. They can be installed for through-floor, interior or exterior applications.
Speed: They're built specifically to transport pallets up to various levels on mezzanines and pick modules, on multilevel buildings and other places where a pallet must travel vertically. They're faster than scissor lifts, which can be critical for many types of operations that demand a certain throughput. The vertical travel speed of a VRC varies between various models and manufacturers, but overall, they tend to be a fast option.
Versatility: While you can absolutely use other methods to fit certain situations, vertical conveyors may allow you to do more with less customization. We have installed them both outside and inside, so you can (for instance) install one on the exterior of a building. A forklift can load it from the inside, then let it elevate the load outside the building to a pick module level or another floor, saving floor space for other uses. You can get them engineered to extend through ceilings, down into basements, etc. Use them for a variety of weights, dimensions and spaces.
VRCs are commonly integrated with conveyor systems for automated or semi-automated applications.
VRCs offer a large range of platform sizes and configurations.
VRCs don't require pits or other excavation (they can almost always be installed on concrete floors or pads).
You can assemble a VRC on site, which means a very large unit can be shipped into a facility in pieces. This means more installation time, but also allows you to more easily place a very large lift into an existing facility.
VRCs tend to have longer/higher vertical travel ranges than most alternatives.
Vertical conveyors can be powered by either mechanical or hydraulic means, dependent on the application.
Safety: Since they're purpose-built for vertical pallet movement over longer spans, VRCs are also built safe. They are code-compliant in most every jurisdiction and aren't considered elevators, since people cannot ride them. VRCs ensure that all sides of the lift that aren't used for loading/unloading are protected by enclosures that are (at minimum) 8′ high. These enclosures are built tight — they'll reject an item as small as a 2″ diameter ball at all levels. VRCs have a variety of safety enclosure, interlock and gate options to increase safety.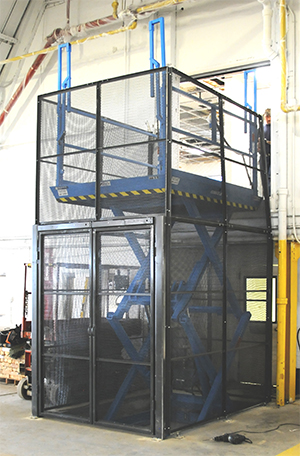 Scissor lifts are commonly used for pallet movement and manipulation, but multi-story or multilevel applications are less common. For the right situation, a lift table may be a good fit.
Speed: Vertical conveyors are almost always faster than scissor lifts.
Versatility: Scissor lifts are an extremely versatile option — within their limits. They can be built with a large variety of sizes and platforms for integration into conveyor systems and other machinery. You can fit them with conveyor tops for complete manual or automated integration. Because they're assembled at the factory, scissor lifts are the easiest lifting option to install, but you may run into difficulties for retrofits in very tight spaces. However, the advantage of this is that scissor lifts can also be tested at the factory.
Scissor lifts can be made to handle riders as well as loads.
ANSI MHI-2012 defines the governing code for scissor lifts, which do not require licensed elevator installers. This is another reason scissor lifts are very easy on assembly and installation (2015 International Building Code recognizes this). Some states require that VRCs and other alternatives be installed by licensed elevator installers.
Many scissor lift applications require a way for forklifts to load them (a pit or ramp).
Scissor lifts are freestanding don't require structural support in most applications — just install it on a concrete floor that can support the load. There is no need for columns or pits in most situations.
Scissor lifts aren't ideal for extended heights and taller platforms. These applications are best left to pallet lifts or VRCs.
Scissor lifts don't have any components, rails or mechanisms, which means the lift's stability and mechanism are entirely beneath the platform. This may save some space in tight areas since the size of the platform is essentially the entire footprint of the lift unless external safety panels are installed for rider lifts.
Safety: Most lifting applications present some danger due to the fact that they tend to place people in proximity to elevated platform edges as loads are dealt with. Even within warehousing, falls are the most common type of injury, so safety is always worth your focus. In the case  of a scissor lift, it's usually positioned on the outside of a mezzanine platform. Adequate guardrails, safety panels and safety gates should be installed on any lift that travels vertically.
Scissors lifts have no external guide rails. All the stability and lifting is provided by the scissors lift mechanism beneath the platform.
Forklift loading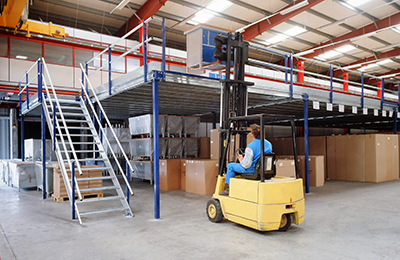 You can opt to move pallets onto and off platforms with a forklift, which also has its advantages and limits. Some things to consider with forklift loading:
It's slow. If you have any significant throughput, forklift loading will quickly become a bottleneck.
It's inexpensive. If you don't need the speed of a lift or VRC, it may be a viable option.
Safety concerns. Typically, a forklift load means that the application is infrequent, which also means that you may not have a safe access point. If you are going to load/unload with a lift truck, we recommend a rotating safety gate that helps prevent people from accessing the open ledge. Even if you aren't doing this often, it's an affordable safety option. Some systems use spring-loaded arms that let drivers access the platform without anyone to move the elevated gate system.
Forklifts don't need a separate maintenance program like lifts may require.
The flow of work may be interrupted. If you have to wait for a forklift to become available to lift a load to the platform, there may be some disturbances to work processes. These are probably acceptable if the pace of work or replenishment is slow enough.
Forklift loading is subject to error. With a lift or VRC, the task of loading the pallet onto a lift is simpler for drivers, and effortless for conveyor integrations. When people are lifting and positioning the load onto an overhead platform, errors in placement or lifting can result in more issues with dropped product and damaged structure. People shouldn't have any more trouble loading a platform than they do a rack beam, but there is an error rate that doesn't exist when people aren't involved in the placement.
What's best for you? It all comes back to a blend of application, throughput, loads, heights and more. We can help you find the right vertical pallet movement solution for your needs.
More resources
---
Scott Stone is Cisco-Eagle's Vice President of Marketing with more than thirty years of experience in material handling, warehousing and industrial operations. His work is published in multiple industry journals an websites on a variety of warehousing topics. He writes about automation, warehousing, safety, manufacturing and other areas of concern for industrial operations and those who operate them.
What can we help you with?