How to Specify and Design Dock Door Security Cages
Protect your people, facility and inventory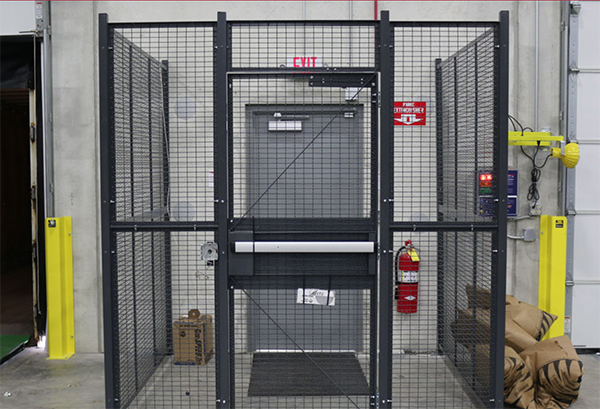 Dock door security cages are used to control access to warehouse facilities, docks and receiving areas where drivers, service workers and others enter a building. They are typically 2 or 3-sided and cover a dock's personnel access door while allowing truck drivers and other visitors to enter the facility, but not the warehouse and general storage or production areas. This lets you admit visitors (or not) as your security and safety rules dictate.
Why limit dock access?
Two big reasons: security and safety.
Security experts tell us that limiting access is the most important factor for inventory security. In any warehouse operation, there is usually something desirable that could be targeted by thieves. When you can limit the people who have access to storage areas, you limit the number of people able to steal or damage inventory or tools. This is critical for operations that store high-value inventory or tools.
Almost all your visitors will be honest, but the keyword here is almost. There is no reason for anyone to have access to your inventory except those you specify. Cages let truck drivers, maintenance people and other visitors enter your warehouse without access to stored items, processes or people.
Safety is a huge factor. People who aren't trained in your safety processes are at more risk than your employees. They can step in front of a forklift, fall or wander into production cells. They may not wear steel toes, safety glasses, vests or other required PPE. They're safer not allowed into rack aisles, near running conveyors or in production areas.
The role of dock door driver cages
Built against an exterior wall to enclose an access door, these cages can range in size, style and features. They tend to be 2-side or 3-side, using a wall to complete the enclosure. They are heavy-duty woven wire construction with size ranges from 6′ to 8′, but can be made in any size in 1′ increments. Many of these cages feature a driver access window that allows paperwork to be passed through, meaning that the visitor may never need to be admitted to handle their business.
Driver's cages should not be installed on emergency egress doors and should meet all local fire and construction or safety codes.
How wide should the cage be?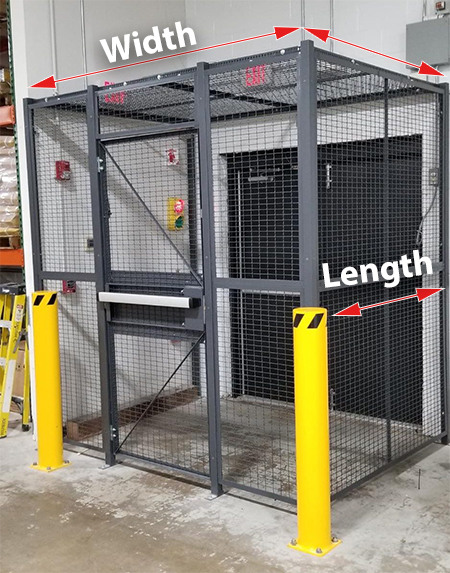 A given space may have overhead door tracks on one side and a structural column on the other between which the cage needs to fit. Measure between the obstructions and leave room for posts.
Cage widths should allow the facility door to open inside without impeding it. If you want benches or other items, it should be wide enough for them and also for the comfort of plant visitors. If you anticipate having more than one visitor at the same time, take that into account.
Standard sizes tend to be 2′ or 3′ wide, but you can specify almost any width in 1′ increments using standard components. For double doors or where you may need it, these cages can even be built to secure full-width dock doors with room for pallet jacks to navigate.
Cage length depends on available space
Standard cage lengths range from 3′ to 8′ long with any size available in 1′ increments. For driver cages, we consider the dimension from the wall extending out to the front of the cage the length. If there are obstructions like forklift traffic lanes or guard rails, take those into consideration when calculating your cage length. If people emerging from the cage might enter a forklift lane, consider guardrails or warning systems to protect them.
The cage length should allow your external door to open, and accommodate accessories like benches or other furniture you'd like to place inside it. If you want a service window, which is highly recommended for driver cages, leave space for it–about 2 feet in general.
Standard heights are 8′ tall, but other sizes are available.
Door styles and sizes
Cage access doors face exterior facility doors at the end of the cage. Standard configurations feature a swing door, 3′ or 4′ wide. However, wider double-hinged and sliding gates can be added. Standard systems feature a padlock lug and can be modified to almost any locking system.
Accessories
You can customize the locks, accessibility and comfort of your cage with standard accessories as listed below.
Many cages specify a lockable service window that allows your people to interact with visitors and exchange clipboards, bills of lading, devices or even a cup of coffee without admitting the visitor into your facility. Windows are 20″ x 24″.
Pushbars are the full width of a hinged door and let your people easily open a locked door for faster access.
You can place durable steel benches in your cage for visitor comfort. They're available in 4-feet and 6-feet lengths.
Driver cages can take almost any locking system a regular inventory cage or took crib can, including access code readers, deadbolts, card readers, electric strike locks and more.
Ceilings are not frequently specified for driver cages but can be added at a reasonable cost.
If you need something you don't see, like integrated shelves, clear panels or solid panels, contact us.
Security, safety and access control
Security is critical for many of today's fast-paced warehousing and manufacturing operations, and perhaps the most important factor is access control. Since shipping and receiving docks are a prime target for pilferage, limiting visitor access is an excellent security upgrade. For more assistance, contact us today.
More resources
---
Scott Stone is Cisco-Eagle's Vice President of Marketing with more than thirty years of experience in material handling, warehousing and industrial operations. His work is published in multiple industry journals an websites on a variety of warehousing topics. He writes about automation, warehousing, safety, manufacturing and other areas of concern for industrial operations and those who operate them.
What can we help you with?