The Process of Specifying Pallet Flow Rollers & Wheels
Consider the ways the roller affects your pallet, handles your load and works in your warehouse environment
Above – left to right: reinforced resin wheels. split rollers, full-width rollers, steel skatewheels. Each roller type has advantages in terms of versatility and capacity, depending on your load and environment.
Pallet flow rack is one of the most space-efficient, first-in, first-out high-density pallet storage and picking systems available. Because the first pallet stored in a flow lane is always the first pallet picked at the front, you constantly rotate inventory. It's a simple concept but the execution can be complex based on the load size, weight and other characteristics. One of the most important decisions is the type and style of roller needed.
Pallet flow system specification isn't standard
Pallet flow isn't sold in standard configurations for good reason: they're engineered systems built for specific tasks.
We consider the pallet, the packaging, the load and the surroundings of a system. All these factors can help determine the way your rack is designed, with special attention paid to the roller/wheel type and braking systems.
Testing is another step. The load, weight and the pallet types are tested to be certain that your pallets will flow from front to back at the right speed and stop smoothly at the bottom. A pallet that flows too slow may jam; too fast and it can damage itself or components.
Pallet flow systems are designed for specific loads and and weight ranges. Changes to those factors should be re-evaluated to be sure the rack will still do the job you need it to. Adding loads that are significantly different than the design may cause significant problems moving forward, so once your rack is built, any changes in your load, pallet or SKU mix should be carefully evaluated.
Magnum resin rollers for freezer/cold applications with heavy pallet loads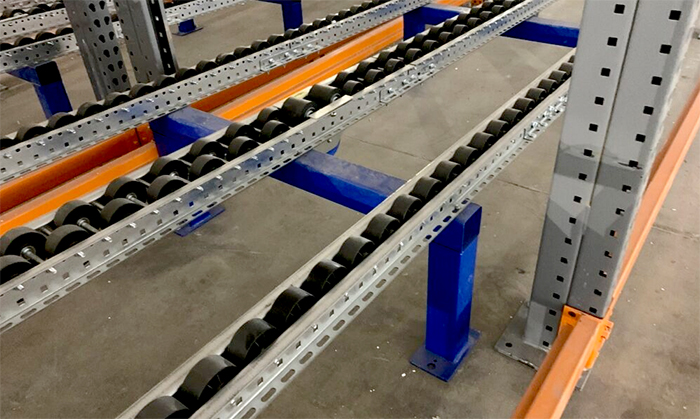 Above: resin rollers mounted in a rack system
Capacity: Magnum wheels are made of reinforced resin that can handle weights up to 330 pounds on each wheel–that's 3,000-pound pallets.
Environment: They're ideal for cold storage applications like freezers and food storage.
Recommended applications: Cold & frozen storage, automotive, food/beverage and manufacturing. These wheels can handle harsh environments that might challenge traditional roller types.
Resin rollers can handle both light and heavier pallets in the same application. This consistency allows versatile lane storage options and handling of various loads in your system. When designed with the correct load in mind, resin wheels allow a broad range of loads and work in difficult environments.
Rollers, full and split width: heavyweight versatility
If you aren't in full control of the type, size and configurations of pallets that enter your warehouse and storage systems, rollers provide a high degree of control no matter what hits the shipping docks. The ability to accept a variety of pallet sizes, styles, quality and configurations means you spend less time and effort dealing with inbound loads and more time working on your internal processes. As pallets change, your rack system will reliably be able to deal with them if it's using rollers.
Full-width rollers roll with the changes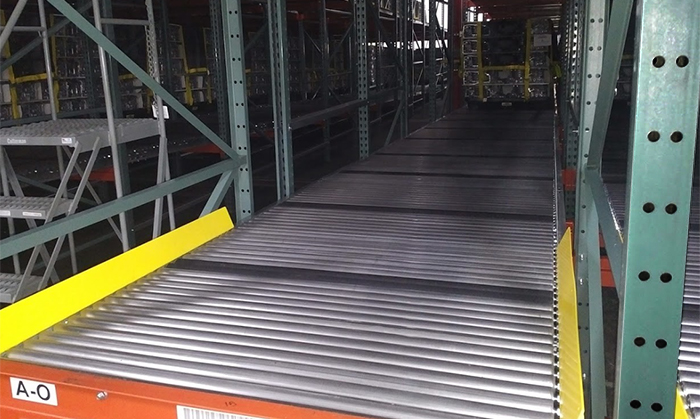 Full roller pallet flow is the most versatile solution for different pallet sizes or types in the same row because they are wider than the pallet and maintain contact with it from entry to discharge. They let you adapt to different loads and pallets–assuming all loads are within the design tolerances of the rack system.
These rollers are specified in warehouses where the loads can arrive on different types of pallets, or where loads change and the system must accommodate a variety of pallets over time.
The key advantage of full-width rollers is that they will handle almost any load or pallet type, including plastic, wood, steel or GMA pallets of most any design within their design tolerances. This lets you load pallets that fit on the dimensions into the system without re-palletizing the load. These rollers fit almost any type of pallet rack and can be customized for extremely heavy, low profile or difficult applications.
Speed control is achieved by disabling rollers and installing impact plates, which don't allow pallets to push beyond the front. Speed controls can also be adapted with full roller systems.
Split rollers offer more economical and flexible pallet support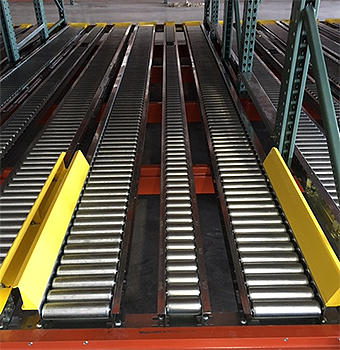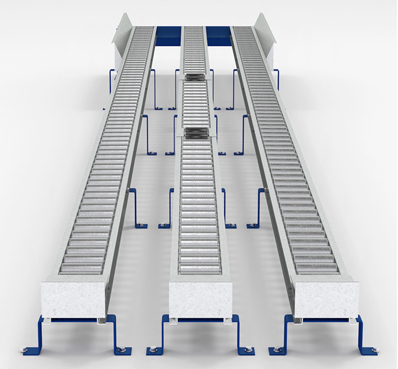 Above, left: split rollers mounted in a rack bay. Right: Split rollers are also used on floor-mounted designs. 
Ideal for heavy loads, split roller rack uses smaller widths of rollers which increases their capacity. And just like the full roller counterpart, the split roller design can be just as flexible in the types of pallets that can be used. Outside rollers accommodate for various pallet widths while a third track down the middle can provide for extra support and capacity if needed.
Split roller tracks can be as wide or as narrow as needed to help with tracking as pallets move forward.
pallet flow roller specifications
Sizes: 1.9" or 2.5" diameter standard
Typical Axles: 5/16" bolt, 7/16" hex
Capacities: Rollers are for very heavy loads, ranging from 260 to 350 pounds per roller
Widths: Between-frame dimensions range from 4" to 60"
Skatewheel pallet flow: economical for lighter weights and shorter lanes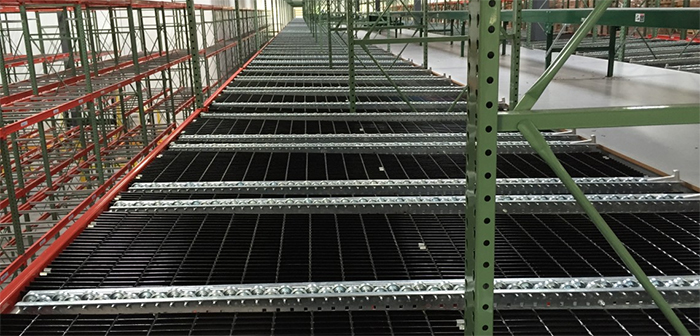 Skatewheel pallet flow rollers mounted in a multi-level, rack-supported pick module.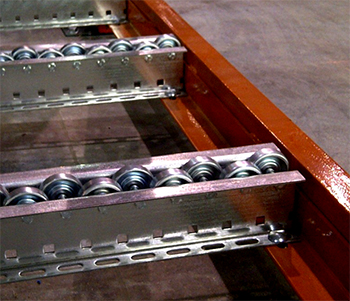 Steel skatewheel rollers are often specified for pallets less than 2,000 pounds set to shorter lanes–2 to 5 pallets deep. They tend to be used for floor-mounted skid and pallets with lighter weights.
Applications
Within a rack-supported pick module, where pallets are loaded into the outer structure of the rack onto internal pick lanes
Excellent for empty pallet returns
Ideal for manual operations, allowing workers to pick cartons from the pallet at a discharge point
Use skatewheels to create FIFO (first-in, first-out) rotation virtually anywhere you have space for a lane
Skatewheel rollers are less expensive than heavier options, making them an ideal way to add flow for lighter-weight pallets in a distribution center.
Unlike full rollers, they can't accommodate a wider variety of pallets, but they can be relocated quickly and easily to allow pick face configuration changes on the fly. This is a different kind of versatility that lets you reconfigure easily and quickly. Loads roll fast on skatewheels, which typically don't require much of any downhill pitch.
What's the right solution?
The most efficient way to store, access and handle pallets is heavily dependent on your application, environment, facility and load. There are many ways to handle the same load, some more efficient than others but all valid for the right situation. In general:
Resin or poly rollers excel for heavy pallets in freezer and other challenging applications
Full-width rollers offer the most flexibility when it comes to accepting more pallet sizes, weights and types. They can accept extremely heavy pallets as well. They're especially good for warehouses that lack control of incoming pallets and want to reduce re-palletizing costs and time.
Split rollers offer similar heavyweight capacities and flexibility to that of full rollers, but do not support 100% of pallets in the system.
Skatewheel rollers are the most economical option for lighter pallets and shorter lanes, particularly in carton picking applications. They're also easier to move and reconfigure.
We can help you find the right method to safely deal with pallet loads and answer any questions you have about the process.
More resources
---
Scott Stone is Cisco-Eagle's Vice President of Marketing with more than thirty years of experience in material handling, warehousing and industrial operations. His work is published in multiple industry journals an websites on a variety of warehousing topics. He writes about automation, warehousing, safety, manufacturing and other areas of concern for industrial operations and those who operate them.
What can we help you with?