Conveyor Transfer Options & Applications
Ways to move product 90 degrees on a conveyor system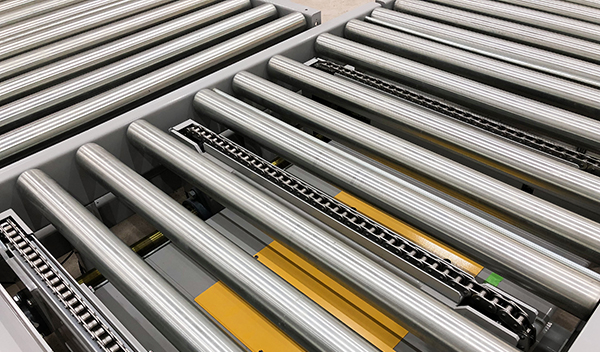 When you need to transfer loads 90 degrees to conveyor lines, machinery or workstations, you have options—both standard and custom. Which transfer works best for your product, application and environment?
Ball transfers: a manual method for lighter loads with flat bottoms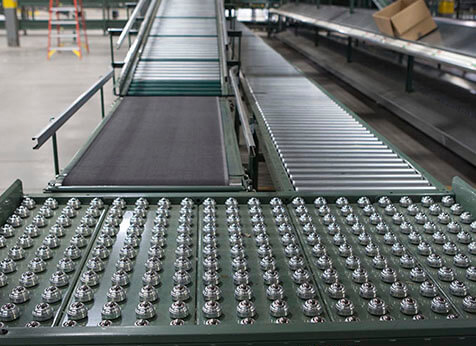 Ball transfers re-orient products: operators can rotate a tote to position a barcode or handle on the right side, or rotate a component during manufacturing. This flexibility is ideal for feeding a workstation where further assembly or inspection occurs on the transfer table. Ball transfers are durable and low maintenance, but don't work well for high-speed conveying. They're better for manual operations where you need to control product orientation or take actions with the load. They can transition conveyed loads onto workstations or lift tables with matching heights.
Use 2.5″ frames ball transfers with skatewheel and 1-3/8″ roller conveyors. They have capacities up to 270 pounds.
Use 3.5″ frames for all other conveyor types or stand-alone tables. Capacity up to 620 pounds.
Read more: Integrating Lifts and Conveyors: Ways to use scissor lifts and vertical conveyors to enhance conveyor systems
Chain transfers: ideal to move heavy loads and pallets
Heavy applications like pallets, motors, drums or manufactured components up to 4,000 pounds are ideal for chain transfers. Pallet conveyors often use chain transfers to divert pallets 90 degrees to parallel or perpendicular conveyor lines or workstations. Due to the nature of the loads being conveyed and transferred, chain transfers aren't high-cycle or fast. They use air bags to lift the transfer, and chains to move the load. You can specify two or three chains beneath your load as necessary.
Chain transfers can be used across multiple conveyors or into a workstation area and powered by one drive. This allows you to simplify the design and maintenance for the transfer mechanism. Some transfer types require a transfer for each conveyor line or adjacent workstation.

Above: chain transfer video
Belt transfers: ideal for perpendicular line-to-line transfers

Above: perpendicular transfer ensures smooth transfer. A pop-up roller between conveyor frames helps make the transition smoother and faster.
Specify belt transfers for V-belt or timing belt applications with conveyed loads up to 75 pounds. They're the best choice for perpendicular transfer from a roller conveyor to another line or workstation. Belt transfers don't require lubrication and simplify maintenance with simple and quick belt replacement. Belt transfers are easy on conveyed products and won't mark or dent cartons or other products. Cycle times vary based on the style and weight of your load, but are usually more than fast enough for transfer applications.
Roller transfers: power and gravity
You can specify gravity or power roller transfer options. Heavier loads and and applications are great candidates for roller; they frequently integrate with drag chain conveyors for pallets or heavy loads. They "pop up" between strands of chains to move the load. Powered models use either motorized rollers or gear motors.
Read more: A guide to belt-to-belt and belt-to-roller transfers
O-Ring transfers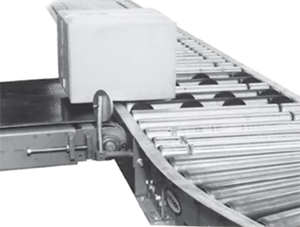 O-ring transfers move the conveyed product to adjacent (or parallel) conveyor lines by using an air bag to lift the transfer and powered O-rings to execute the transfer. Integrators use these transfers with power roller systems for packages, totes and cartons up to 75 pounds. O-ring transfer speeds must equal the conveyor's speed. Reversing O-ring transfers are also available for certain conveyors and applications.
Transfers help make conveyors more versatile
Conveyor transfers make your system more versatile by allowing smooth and safe movement between lines or to workstations. They kick products to different processes and destinations based on scanners, pathways or manual decisions. We can help you find plenty of ways to divert, rotate, position and push conveyed loads; contact us to find the right solution for your needs.
More resources
---
Scott Stone is Cisco-Eagle's Vice President of Marketing with more than thirty years of experience in material handling, warehousing and industrial operations. His work is published in multiple industry journals an websites on a variety of warehousing topics. He writes about automation, warehousing, safety, manufacturing and other areas of concern for industrial operations and those who operate them.
What can we help you with?