A Review of New Forklift Safety Technologies & Methods
How new safety technologies help you avoid accidents

Like many technologies, forklift safety sensors and alarms progress the more the need is stressed. Cisco-Eagle's Safety Automation Group has built a suite of solutions that can help in more specific situations. Let's review some of the newest technologies you can implement and where they might be the most helpful.
These sensors aren't specifically backup sensors, but do serve that function. They're better than simple backup alarms due to their 180-degree coverage behind and to the sides of the driver. They help drivers by warning them when they detect an object — or more importantly, a person — within their zone of 16 feet. They flash at first, then flash faster within 10 feet. Finally at 6 feet away, an audible alarm is triggered. You can also order them with different settings to fit your needs.
Functions
Backup alert
Pedestrian protection
Pallet rack and structural protection
Blindspot assistance
Audiovisual alerts
---
Read more: How Well do Your Forklift Drivers See?
---
These systems are offered in two configurations, either of which may suit your needs. The first is a full sensor system that triggers the projector when it detects motion. You can also use the projector only, which is essentially a more visible sign that stays on during operational hours.
Functions
Alerts for pedestrians
Alerts for forklifts
Conditional alerts
General visual safety enhancements
---
Read more: Why the Floor is Better than Eye Level for Forklift Safety Warnings
---
Similar in some ways to ZoneSafe systems, this concept requires that forklifts must be tagged, and adds a fixed-location warning system to protect a specific corner, crossing or mingle point. Pedestrians don't wear tags in this system. You can guard a rack corner, aisle, dock door or other problem area by tagging your trucks and installing alarm units in dangerous intersections. This is specifically a forklift detection system that requires at least one forklift enter its defined zone to trigger; two pedestrians won't trigger it, but a forklift plus either another forklift or a pedestrian will.

This system doesn't use motion detection like many others (another ZoneSafe similarity) and doesn't require line-of-sight. It uses NFER technology to identify tagged forklifts in the zone. The advantage of this is that it can detect around corners, past walls, racks, etc. On the other hand, you should be sure all forklifts operating in the area have been tagged.
Functions
Alerts for pedestrians
Alerts for forklifts
Forklift collision avoidance
Docks and rack aisles
Conditional alerts
---
Read more: A Step-by-Step Safety Process for Forklifts and Pedestrians
---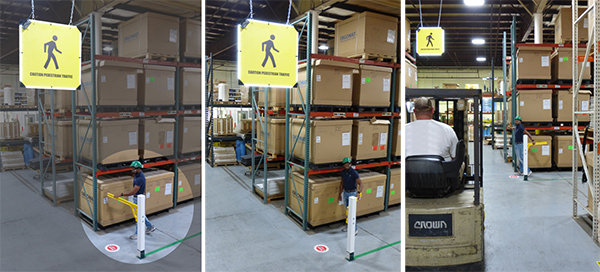 Above: gate-activated warning system triggers when a worker on foot opens the gate
This is a "pick your best way" system that relies on a number of activation methods to produce alerts for both forklift drivers and pedestrians. You can activate a brightly lit forklift safety sign the following ways, depending on the application, environment and situation:
Safety gate triggers: when a pedestrian opens a safety gate, the sign triggers bright LED lights.
Door monitor triggers: when a door is opened, the system triggers.
Motion sensor triggers: the system relies on motion detection under specific circumstances to trigger its alert.
Push-button trigger: when a pedestrian pushes a button, the system triggers.
Lidar trigger: this system detects traffic moving in a specific direction (toward it rather than away, for instance).
Other activation triggers: laser or occupancy sensors can also be specified.
Functions
Alerts for pedestrians
Alerts for forklifts
Gates and exclusions
Conditional alerts
---
Finding new ways to work safer
Any safety expert will tell you to avoid forklift-pedestrian shared zones whenever you can, and although that's the best way, some interactions are impossible to avoid. These systems and others such as AisleCop, AisleAlert, ZoneSafe and a host of other safety sensors and gate systems address those "mingle points"–the places where people and forklifts simply must work together. Not all of these methods fit all situations and applications. They enhance your training and processes to help enhance safety in specific applications.
Because of the scale of the problem and the damage a forklift can cause to a human body, technology, training and your internal processes must be consistently evaluated and improved.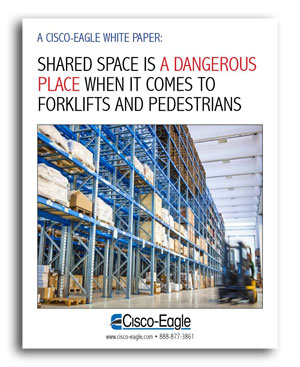 Download our white paper: "shared space is a dangerous place"
In an ideal world, forklifts and pedestrians would never interact, but we don't live in an ideal world. Download our guide to training, methods, technologies and processes to improve safety when your people operate near forklifts. Topics also include traffic planning, environmental factors, speed limits and much more.
---
Scott Stone is Cisco-Eagle's Vice President of Marketing with more than thirty years of experience in material handling, warehousing and industrial operations. His work is published in multiple industry journals an websites on a variety of warehousing topics. He writes about automation, warehousing, safety, manufacturing and other areas of concern for industrial operations and those who operate them.
What can we help you with?