Pallet Racks and Outdoor Storage
Pallet, cantilever and stacking racks can be used outdoors if properly specified, installed and inspected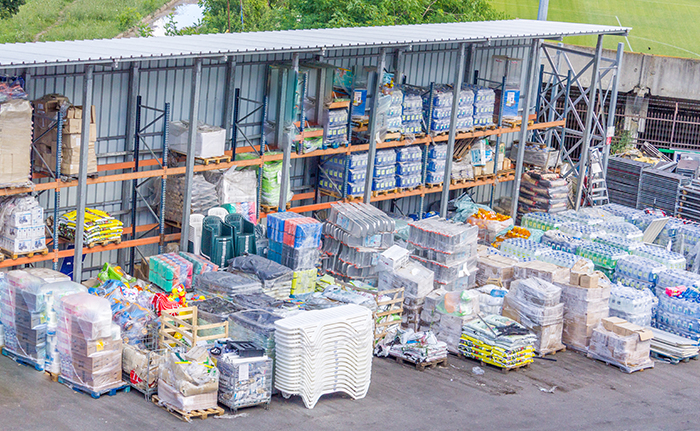 Above:  outdoor pallet rack with wind break wall and sloped roof
Most pallet racks and other industrial storage rack types are used indoors, safe from the rigors of cold, heat and wind, but some storage applications demand outdoor storage. We see those frequently in retail, manufacturing and fabrication operations. Sometimes, rack storage also serves as overflow in distribution operations or warehousing. Seasonal storage is often an outdoor racking application.
For outdoor installations, rack specifications can be different from indoor applications for the exact same load profiles due to environmental factors and the punishment racks take from wind and elements. But you can use racks outdoors safely.
What are the environmental considerations?
Racks installed outdoors are subject to wind and weather. They may also be more vulnerable to seismic issues, and outdoor surfaces are sometimes inadequate to support their load capacities. These issues can fundamentally alter the type of rack you specify, how you specify it, its load capacity and installation requirements.
The effect of wind on storage racks
Rack structures are subject to lateral forces and any type of dynamic movement. When you need to store heavy loads on high-bay racks or cantilever designs, be aware that winds will act as a lateral force on the rack and its load. The larger the surface area, the greater the effect. How does this affect rack design?
Consider beefier, heavier racks to deal with side-to-side forces.
You may need to reduce the height of your rack to spread out the surface area subject to winds.
Wind breaks–such as solid panels or facility walls–are recommended. Shield the rack on three sides whenever possible. This reduces your aisle access, but is much safer and more stable.
Be certain you adequately anchor your racks (more below).
If you need multiple rows, remember that the outer rows shield the interior rows somewhat. Take that into consideration as you load and use those racks.
Even gentle winds affect load-bearing capacity, so you should always consider wind a factor, even in areas where storms and heavy winds aren't common.
Installation slab considerations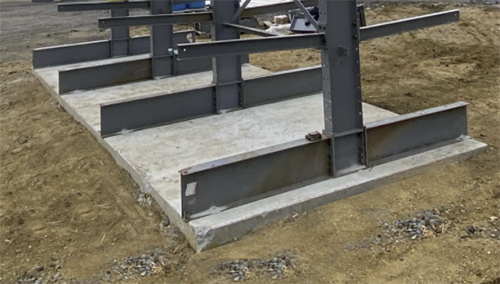 Storage racks are manufactured for installation on concrete slabs, but many outdoor locations weren't necessarily built to common warehouse specifications and often lack a rated surface. Don't simply throw some racks on the parking lot, as you can't guarantee safety unless the surface is adequate.
Surfaces like asphalt, thin concrete, gravel or even dirt are the kind of slabs inadequate for storage racks. Storage racks are never safe unless properly bolted down to an adequate concrete surface; collapses and falling items are serious dangers for racks on weak or inadequate surfaces. Asphalt bases retain heat and swell, while concrete and dirt lack any kind of supportive stability for anchors.

Always know the capacity rating of your slab–even if it's concrete.
It may be possible to pour sound concrete footings for your outdoor rack installation for anchoring your columns and uprights.
If your slab is inadequate, always work with a qualified rack design professional.
Stacking racks are modular and portable, and don't typically require anchors.
Always consult a rack professional for any project that anchors racks on any surface other than RMI-recommended concrete slabs.
Read more: Options for pipe and tube storage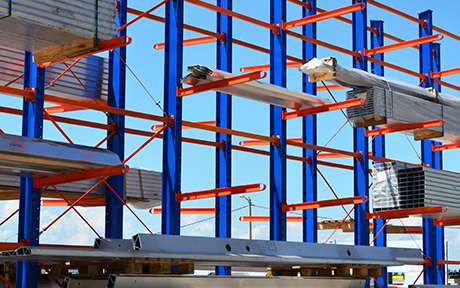 Above: outdoor cantilever rack installation with heavy tube loads
Heat, cold, grit, rain and moisture act like erosion on your racks
The elements will affect any type of steel structure, and racks are no exception. When heavy rains fall on racking, that can act as force on the rack and its loads, but the bigger issue is the constant pounding racks take from moisture of all types. Water can pool in nooks within the rack and its connections to uprights, which may cause the finishes and steel to corrode and rust. In heavy storms, the risks are even greater, as a rack can be struck by lightning. Snow accumulation can be very heavy and overload a rack system.
Some rack designs reduce water pooling and its damaging effect on structural integrity. Structural C-channel racks, for instance, trap less grit and moisture and allow for easier cleaning.
Also, closed tubular columns tubular racks allow less moisture accumulation than open-back designs.
Rack finish is extremely important, but there are finishes made to deal with moisture and humidity. The most ideal is galvanized, which resists rusting and corrosion over the long term. Powder coatings are more resistant than other finishes, but aren't as protective as a hot-dipped galvanized finish.
Sloped roofs reduce moisture and pooling, as well as snow and ice accumulation on racks and loads. Many racks feature sloped roof designs atop the upright.
Outdoor storage can be safe and productive…if you design and install the right type of rack in the right place with the right precautions
Getting it done safely is the key
Design your rack for the tough conditions and make sure the loads you'll be storing can withstand the elements as well. Frequently inspect outdoor installations for damage, rust and corrosion so that an event like heavy winds or a forklift brushing the rack doesn't have as much of a chance to knock over the structure. As with indoor racks, design barriers and column protectors into the system. Don't allow workers near racks during high winds, storms or heavy snows; these events are when collapses are the most likely.
As always when it comes to safety design, we write these articles with general information to help you get started. We always recommend engaging a professional rack design company to be sure your system is safe and productive.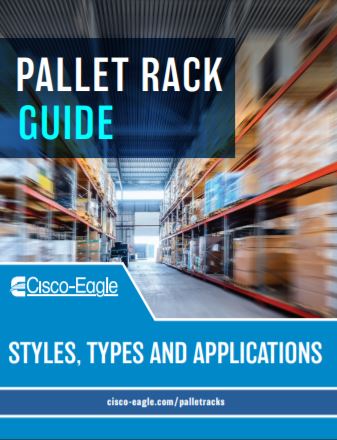 Download our Pallet Rack Guide
Pallet rack enhances your warehouse and improves overall facility performance when correctly specified, laid out and installed for the right load in the right positions. Check out our guide to specifications, styles, accessories and applications with expert tips from our employee-owners. You'll find quick, useful information on racks and how you can use them more effectively.
---
Scott Stone is Cisco-Eagle's Vice President of Marketing with more than thirty years of experience in material handling, warehousing and industrial operations. His work is published in multiple industry journals an websites on a variety of warehousing topics. He writes about automation, warehousing, safety, manufacturing and other areas of concern for industrial operations and those who operate them.
What can we help you with?