Palletizer Perspectives: Is Palletizing Suitable for My Operation?
An interview with Bobby Edmond, Drector of Applications for vonGAL Palletizers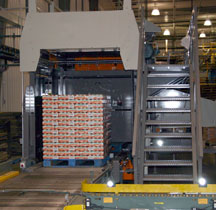 With the growing popularity of automating the palletizing function, we arranged an interview with vonGAL, a leading manufacturer who has the largest installed base of palletizers in the country. Bobby Edmond is vonGAL's Director of Applications, and has been in the business for 25 years. He has seen applications in a wide range of industries, and in companies large and small. I asked him if he would take time to share his thoughts, and answer a few questions of interest to those that might be considering palletizing for the first time.
How large does an operation need to be to warrant consideration for palletizing?
Size is generally not an issue. Throughput, labor costs, reliability, safety, ergonomics……..these can be typical issues. Take ergonomics, it relates to companies whether they are large or small. Another current consideration is that of tax incentives offered for capital equipment purchases…..which range up to 250,000, and a 25% bonus write off. Again, company size is generally not a key consideration.
How much space is required?
Good question. It is more than the footprint of the palletizer equipment. For instance, access is required for maintenance, clearance near walls, room for pallet dispensers, and room for fork trucks. Depending on the vehicle and its turning radius, you may require 15′ or more.
How do you manage the flow of cases into and out of a palletizer? Where are the bottlenecks?
The flow can be managed on both ends by using accumulation conveyor. Cases feed the palletizer, and pallets discharge on the other end. Conveyor will overcome any incidental delays on either end. For instance, loads may not be picked up when ready on the discharge end. The fork truck driver was delayed. Accumulation conveyor is very straightforward to implement and deals with these issues.
What is involved in integrating an existing conveyor to feed a palletizer?
This is related to the previous question. We interface with the upstream (infeed) conveyor. This is simply a signal to the conveyor to begin accumulating. A similar signal manages the downstream conveyor, stretch wrapper, strapper, or similar equipment.
Where should an "end of line" palletizer be located? Close to the dock doors?
Think about it, an "end of line" palletizer generally replaces a low to moderate speed hand stack line whose location is known. However, loading of dispensers, and peripheral equipment may require adjustment to your layout. Also consider fork truck traffic and pick up points downstream. Additionally, how much time it takes to deliver loads to drop off before returning. This round trip can affect throughput.
How important is the consistency of cases or pallets?
Consistency is a must. When going from manual to automation, the quality is critical. Loose or missing boards on a pallet can shut down a line. Sealing of cases, square flaps, tight seals, etc. are necessary for smooth operation.
How do empty pallets get into position to accept cases?
That is based upon the application. For instance, with bare-bones installations, it is not unusual for customers to manually position a pallet on the floor. This can significantly limit performance of the equipment. It precludes you from being able to run continuously. A relatively inexpensive fix for this situation is the addition of powered pallet conveyor to discharge full loads to a pick-up station. For another addition to further automate the system, a pallet dispenser automatically indexes the next empty pallet into position. At a minimum, we generally recommend a conveyor to automatically remove completed loads. Robotic palletizers present different alternatives. Some can both build loads and position pallets.
What about the installation of heavy equipment in a typical facility?
Weight is clearly a consideration, as is vibration. Your provider will consider floor loading, vibration, slab, lagging requirements, piers, etc. The key is to plan ahead.
Some of these machines seem fairly high tech. What about support, maintenance, parts, etc?
Scheduled maintenance should be part of every implemented system. Most commercial parts are commercially available over the counter. For any proprietary parts, confirm those recommended for stock, and inventory them with either the customer or their support team.
Stay tuned. Next month I'm interviewing another industry executive with decades of insight into palletizer applications.
---
This article is part of a series of articles on
Palletizers
. Click on a link below to view one of the other articles.
Palletizer Perspectives: Is Palletizing Suitable for My Operation?
---
Tags: Factory Automation, Material Handling, order fulfillment, Palletizers, palletizing, shipping, warehousing
---
What can we help you with?