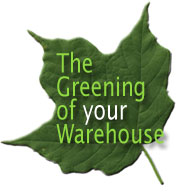 Sustainability and economic considerations get along so well that you might as well call them best friends. Saving energy is one step in the process, but that's not the end of it. For instance, Hytrol's E24 and E24EZ conveyor lines are a good example. Aside from providing a much-needed alternative to conventional 24-volt conveyor rollers, these conveyors have immediate and significant sustainability advantages.
How green does conveyor get?
In the case of E24, we're talking about energy savings as high as 60%.  But then we get into raw materials savings: An E24 conveyor lasts about 6 times as long as a conventional roller at 125,000 hours life expectancy (24/7 runtime).
That's less steel and power used to manufacture it. E24EZ conveyors have a built-in that allows the conveyors to enter an energy-saving "sleep mode" for the ultimate in quiet, efficient, sustainable powered roller conveyor. Because the conveyor can use only one motor for all widths, it's excellent for reducing needs for specialized, energy-consuming motors. With 3 moving parts, there are many fewer opportunities for parts failure, and the inefficiency that comes with it.
There are other ways to use conveyors to create a more sustainable operation. Contact us today for assistance.