Robotics and End of the Line Packaging
At the end of line, we package, we palletize, we stretch-wrap, we inspect, we ship. And we have the chance to add value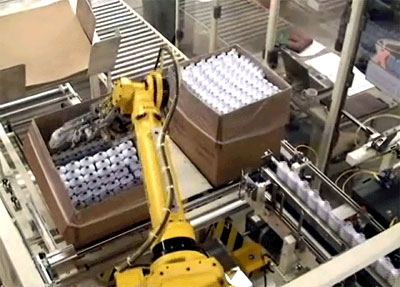 The end of a manufacturing or distribution line is where the rubber meets the road for many operations. It's potentially the last place where you have direct control of your product before it ships to retailers or direct customers. It's where you can add a lot of value…or spoil a lot of value. The end of the line in many ways is more important to your company's image as all its public relations, its websites, its brochures. It is often where your reputation can be made.
When you are utilizing a manual process for these functions, the problems are apparent. Ergonomic issues jump out first: people must bend, lift, and twist their bodies to execute packaging tasks. These are frequently repetitive tasks, with little value-add to the operation. These tasks can include:
Packing conveyed products directly into cartons. Often this task is standard throughout an operation, or very close to standard.
Loading  flow-wrapper infeeds
Filling product pockets in a form, fill and seal machine
Arranging products in blister and thermoforming machines
Creating product arrays or stacks at the in-feed to a bagging operation
Placing products directly into clamshell packaging – a very regimented and repetitive task
De-scrambling bottles from bulk for the in-feed of filling, capping, and/or labeling machines
Top-load and side-load case-packing of bags, pouches, tubes, bottles, bundles, cartons, etc.
Unloading various types of baked goods from pans – a very labor intensive, low-value-add manual task
Unloading and case-packing single-serve portion packages from filling machines
Palletizing and de-palletizing beverages, cases, bags, pails, totes, bulk containers, cans, bundles, etc. This is a very difficult task for manual work.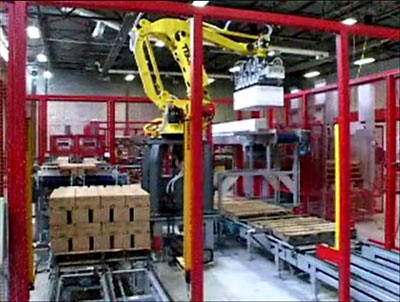 Aside from ergonomic concerns, there are issues with uneven labor availability. Almost every packaging operation must deal with turnover, training, and HR issues for these low-skill, unergonomic, difficult positions. Throw in costs related to ever-changing labor, safety, and other regulations, and manual processing, while considered inexpensive in the short term, isn't particularly appealing when compared to modern automation.  Sustainability also plays a role. For operations such as food processing, food safety and trackability is of primary concern.
Current Robotic Trends in Packaging
Robotics have emerged as a viable end-of-line alternative for these operations. Costs have decreased while the quality of technology (both hardware and software) have greatly improved. Some things to consider:
The real costs of automation are low, and getting lower. The cost of robotic automation has remained steady or increased for most of two decades, while all other costs – in particular the cost of labor – have increased
Robots aren't so dumb. Vision-assisted robotics that allow a robot to emulate much of the human hand-eye coordination has undergone a virtual revolution in recent years. It used to be that only regimented tasks were suitable to robots. Today, that's not the case. Robots can perform any number of in-process product inspections and actions that are close to human flexibility
It's widespread and getting more so and your competition is automating. Don't think your competitors are automating manual processes? Ask the Robotics and Automation Society. It says that "Nearly every major user industry increased its purchases in the opening quarter of 2010. Especially strong gains were seen in robot sales to the semiconductor/electronics/photonics industries as well as food & consumer goods.
Distribution operations are automating. Fast. Many of the world's robots have been traditionally used in manufacturing, not in distribution/warehousing. Not today. More importantly, "material handling remains the largest application area for new robot orders, accounting for some 60% of the units sold in North America in the January through March period" in 2010.
Robotics in packaging industries is also on the rise. Robots can handle loads of all types, and can reliably cartonize them.
| | |
| --- | --- |
| Traditional End-of-Line Methods | End-of-Line Methods Utilizing Robots |
| Manual Pick, Place, and Palletizing | Robots can pick primary and secondary product, place into cartons, and palletize product efficiently and effectively |
| Unsafe process or a process that is at a significant risk for repetitive stress injury | Robots are precise, clean, and repetitive and can run without failure for several cycles |
| Hard automation is inflexible | Sudden product or packaging changes are handled with ease |
| Risk contamination | Are hygienic and sterilized |
| Risk product damage during packaging | Highly sophisticated sensors monitor pressure, and grippers that have been developed specifically for food processing can eliminate product or package damage |
| Tedious, repetitive, and heavy-handling tasks | Consistent movements and high payload capacity perform tasks with ease |
| Imprecise equipment handling can damage equipment | Precise, consistent handling can greatly increase the service life of the equipment. |
| Unreliable equipment | Reliable with Mean Time Between Failure rates > 90,000 hours |
| Large single-task equipment requirements | Small workcell footprints with robots that can handle multiple operations |
Tags: Automation, Conveyor, Packaging, palletizing, Robotics
---
Scott Stone is Cisco-Eagle's Vice President of Marketing with more than thirty years of experience in material handling, warehousing and industrial operations. His work is published in multiple industry journals an websites on a variety of warehousing topics. He writes about automation, warehousing, safety, manufacturing and other areas of concern for industrial operations and those who operate them.
What can we help you with?