Manufacturing Automation: What Is It? Where Is It Going?
How will automation shape the future of manufacturing?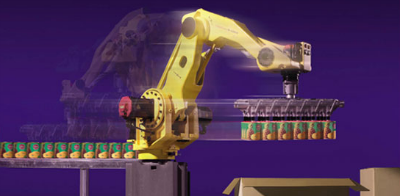 Industrial engineers have envisioned fully automated factories since at least the middle of the 20th century. But the real race to automate manufacturing can be said to have begun in the 1980s, when US car manufacturers came up with the vision of "lights-out" manufacturing. The idea was to beat their rivals by automating the factories to such an extent that the entire manufacturing process could be left to robots. To a great extent, it has remained only a vision so far.
What is automation in manufacturing?
Automation in manufacturing is the use of "intelligent" machines in factories so that manufacturing processes can be carried out with minimal human intervention. It involves the application of various control systems to enable operating equipment to carry out on their own, with little human intervention, tasks that require speed, endurance and precision.
Automation can be achieved by several different means, including mechanical, electrical, electronic, hydraulic, pneumatic, and computers. Usually, two or more of these means are used in combination. Today's state-of-the-art factories, ships, and airplanes combine all of these techniques.
The main benefits of manufacturing automation include leaner operation processes that require less energy, less material, and reduced labor waste. These can lead to improvements in quality, accuracy, and precision. The downsides include high costs of R&D and installation of equipment.
What is the current state of automation in manufacturing?
Although "lights-out" manufacturing, a concept in which the lights can be switched off leaving everything to the robots, is still a dream, remarkable progress has been made since the 1980s. Many repetitive and high precision work in large factories, such as in car assembly lines, have been taken over by industrial robots.
Today's industrial robots have high computing capabilities, vastly improved vision systems, and increasing operational degrees of freedom. However, they are limited to operating in highly structured environments and, to a large extent, still need to be controlled by humans. They are also too specialized and inflexible for the use of small and medium industries. Therefore, they can essentially be considered tools of long production runs and large manufacturers.
With the rapid development and proliferation of microcomputer and software technologies, automation in manufacturing is almost totally dependent on the capabilities of computers and software to automate, optimize and integrate the various components of the manufacturing system. Due to this dependence, automation in manufacturing is called computer integrated manufacturing.
What is the future of automation?
Although automation in manufacturing in not without its detractors (such as an unsubstantiated claim that it will lead to mass unemployment), its future looks very bright. Industrial robots of the future will be multi-functional so that the same machine can be put to several different uses. They will have many capabilities associated with human workers, such as the ability to make decisions and to work autonomously. They will also have self-diagnostic and predictive maintenance capabilities.
Thanks to automation of manufacturing, the factory of the future will be more efficient in the utilization of energy, raw material and human resources. Also, contrary to popular belief, the experience so far has shown that automation will not cause mass unemployment. On the contrary, the mass use of robots will create more jobs. Humans and robots will work together to create a more efficient and productive workspace.
Adam Robinson is the marketing manager for Cerasis, a third party logistics company offering a web based transportation management system and managed transportation solutions for shippers who primarily ship motor freight (LTL, Full Truckload, Small Package) in North America.
Tags: Automation, Industrial Robots, Manufacturing, Robotics
---
Scott Stone is Cisco-Eagle's Vice President of Marketing with more than thirty years of experience in material handling, warehousing and industrial operations. His work is published in multiple industry journals an websites on a variety of warehousing topics. He writes about automation, warehousing, safety, manufacturing and other areas of concern for industrial operations and those who operate them.
What can we help you with?