Hytrol E24i™ integrates the E24™ Motor and Card into a Single Unit
Easier to use, a cleaner look, and better protection against common electrical failure sources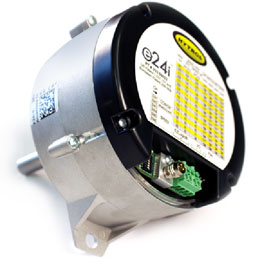 Hytrol Conveyors was the first to widely use 24-volt roller motors in its conveyor systems. In fact, Cisco-Eagle helped roll out the product at Pack Expo in 2007, and have strongly advocated it for many of our clients since. E24 resolves issues such as heat dissipation, limited motor life span, lack of sufficient torque, and the inability to use 1-3/8″ rollers, which has significantly limited using motor-driven rollers in what are otherwise excellent applications. Now, Hytrol has further increased e24's flexibility and usefulness by merging the motor and card into a single unit.
Hytrol has announced the E24i™, which integrates the E24™ motor and card into one unit. Its Models 190-E24 and 190-E24EZ will ship with the E24i™ motor on its new conveyor orders (after 1/1/15). (Inclines, declines and transfers will be supplied with the original E24™ motor and card).
The E24i™ gives conveyor users these advantages:
It reduces wiring for a cleaner look outside of the channel
It makes setting consistent speeds easier with the use of dip switches rather than a tachometer and screwdriver
It enhances reliability of card and motor by adding a dedicated motor driver chip to protect against the most common electrical failure sources
E24i™ will works for applications using the low-current setting on the current version of E24™. It will not work with a 3-amp setting.
More on e24 systems:
---
Scott Stone is Cisco-Eagle's Vice President of Marketing with more than thirty years of experience in material handling, warehousing and industrial operations. His work is published in multiple industry journals an websites on a variety of warehousing topics. He writes about automation, warehousing, safety, manufacturing and other areas of concern for industrial operations and those who operate them.
What can we help you with?