OSHA Safety Standards for Mezzanines & Platforms
Ensure compliance with OSHA regulations, building code & safety standards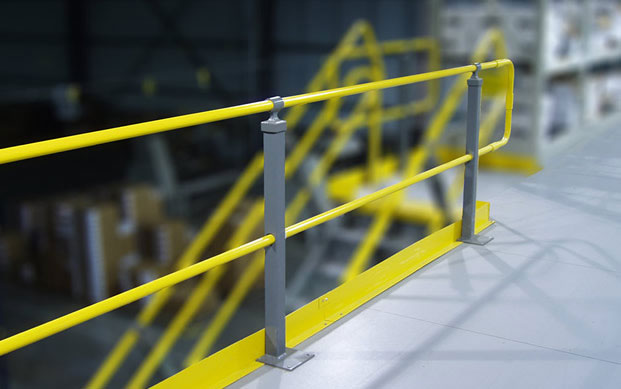 We help clients with structural mezzanines and rack supported systems in a range of facilities.
Mezzanine options range from professionally manufactured to home-made to local fabrication shop to professional contractors. If you have a mezzanine or storage platform custom fabricated, you need to be sure your contractor is complying with OSHA & local safety regulations, particularly on guard railing, stairs and gates. If your fabricator doesn't routinely work with mezzanines, this is something you'll have to do on your own. The best policy is to look at established vendors if you don't want to micro-manage the details of building permits, code compliance, and OSHA's blessings. Here's a breakdown of the handrail issues you might run into:
Mezzanine guardrail safety standards
Companies have been forced to extensively rework mezzanines when they don't handle these issues on the front end. If you do go that route, the first place to look for noncompliance is in the guard rail. OSHA regulations are pretty straightforward:
"Top edge height of top rails, or equivalent guardrail system members, shall be 42 inches (1.1 m) plus or minus 3 inches (8 cm) above the walking/working level. When conditions warrant, the height of the top edge may exceed the 45-inch height, provided the guardrail system meets all other criteria of this paragraph (§ 1926.502(b))."
Simple enough on the height issues. Make sure the plans are detailed on that regard, and make sure the final product meets it.
Mid-rails, screens, mesh, intermediate vertical members, or equivalent intermediate structural members shall be installed between the top edge of the guardrail system and the walking/working surface when there is no wall or parapet wall at least 21 inches (53 cm) high.
In many cases, the mid-rails are for seismic areas. They are more expensive — about $1,100 more for a mezzanine approximately 30 x 30 — but often worth it, even if code doesn't specify a mid-rail. And while a thousand dollars isn't cheap, it might end up that way because it makes it more difficult for things to slip between the upper and lower rail.
Then we address capacity:
Guardrail systems shall be capable of withstanding, without failure, a force of at least 200 pounds (890 N) applied within 2 inches (5.1 cm) of the top edge, in any outward or downward direction, at any point along the top edge.

When the 200 pound (890 N) test load specified in paragraph (b)(3) of this section (§ 1926.502) is applied in a downward direction, the top edge of the guardrail shall not deflect to a height less than 39 inches (1.0 m) above the walking/working level. Guardrail system components selected and constructed in accordance with the appendix B to sub-part M of this part will be deemed to meet this requirement.
It goes on to say that mid-rails or mesh screen need to withstand 150 pounds of force applied in any downward or outward direction at any point along the mid-rail. It's also got notes on how to finish the rail so that it won't lacerate or cut people. It shouldn't snag on clothing. (In other words, a well-finished rail should be smooth to the touch at any points, have all the burrs ground down, and the sharp edges blunted.)
What else should you know?
There is a lot more to understand. I recommend an experienced mezzanine vendor, but if you do go the fabrication shop or contractor route and they aren't experienced with platform work, be aware of the safety rules and how they apply to you. Check with the OSHA website, get your building permits (in some areas, a mezzanine of certain size can be considered a "second floor" and that opens up a new can of worms). You also need to be sure be sure that you're meeting IBC rules and cover all of your bases.
Related articles:

Tags: building codes, code compliance, industrial safety, Material Handling, Mezzanines, OSHA, warehousing
---
Scott Stone is Cisco-Eagle's Vice President of Marketing with more than thirty years of experience in material handling, warehousing and industrial operations. His work is published in multiple industry journals an websites on a variety of warehousing topics. He writes about automation, warehousing, safety, manufacturing and other areas of concern for industrial operations and those who operate them.
What can we help you with?