Choosing the Right Pallet Conveyor
Pallet transport is critical for distribution, manufacturing and work-in-process applications
Above: a powered roller conveyor transporting a heavy load at Simmons Pet Foods.
Pallet conveyors transport skids, pallets, sheets and other extremely heavy loads. This can be accomplished with chains, belts, rollers or even ball transfers. The pallet conveying solution is critical for efficient, speedy product or process flow. Given the options, which conveyor type is right for you?
Pallet conveying is harder than conveying packages or totes because pallets are heavier, bulkier and tougher to handle. Drums, bulk containers and unit loads can be more daunting due to variable characteristics, so it's important to consider all the factors upfront.
How to start a pallet conveyor project
What is your load? Load evaluation is critical to pallet conveyor projects. Look at the pallet design (feet, stringers, blocks). Is it a skid? How much does it weigh? Other loads–bulk containers, as barrels, drums and others–should be defined. It's common for these systems to convey large components, work-in-process loads and other heavy items. You may think you're conveying a standard pallet, but look at all its characteristics to be sure you understand them.
What is the environment? These conveyors are frequently used in manufacturing or processing environments where high temperatures, airborne debris, moisture or oils are present. Define these factors as you move forward. See Conveyors in difficult environments for more information.
How will you load and unload it? Is a palletizer involved? Are pallets being loaded empty and filled manually or by a robot through the process? Are forklifts or other devices placing or picking up pallets on either end of the conveyor? This helps you define your needs throughout the project.
Now, we can move on to various conveyor types and when you might specify them.
Chain-driven power roller systems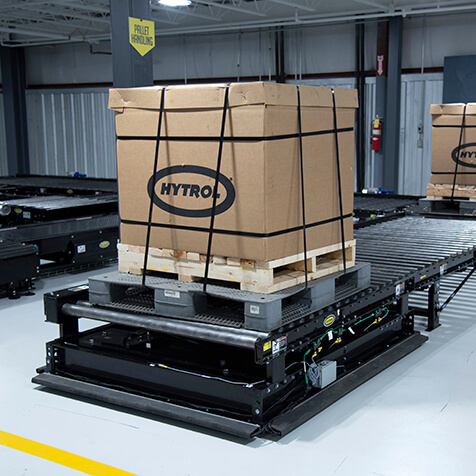 Chain-driven power roller systems can be specified for a variety of accumulation and transport applications for pallets, heavy components, drums and other unit loads. These systems drive their rollers with chains, which gives them the power they need to move these heavyweight loads. They are available in straight and curved configurations and are easily integrated for angled transfers.
When to use chain-driven systems: These are the conveyors of choice for tough, dirty environments where airborne debris, oils or moisture are present. They're the baseline for transporting and accumulating difficult, heavy loads in tough manufacturing or warehousing environments. Use them in general heavyweight applications for pallets, skids and drums, or in progressive assembly operations for large-scale manufactured goods. Accumulation models work well for staging with removal at any point of the process, without interfering with product "lifting" from conveyor. Chain driven systems are often the choice for pairing with robots, packaging systems or other machine integrations.
Drag chain systems
Drag chain conveyors pull the load from origin to endpoint on the conveyor.  They don't rely on rollers or belts to support a load. Certain types of items may not have the right load characteristics for rollers. These conveyors are excellent for high-temperature applications. Drag chain conveyors can handle loads up to 6,000 pounds and are low maintenance. Since there aren't any rollers, they're relatively compact when space is critical. They are reversible and can be curved or straight.
Heavy Duty Drag Chain Pallet Conveyors: Heavy pallet conveyors let you convey pallets with bottom deck boards oriented perpendicular to travel direction. With total capacities up to 6,000 pounds and frame widths up to 104-1/2″, they are ideal for handling heavy pallet loads. Choose 2 or 3 chain strands and a variety of sizes and conveying speeds.
Drag Chain Pallet Handling Accumulation Conveyor: DCEZ conveyors transport pallet loads and maintain a zero pressure, diffuse accumulation system that keeps loads from colliding on the line. With maximum capacities up to 12,000 pounds and frame widths up to 104-1/2″, they are ideal to create a line or buffer of very heavy pallets or bulk loads.
Drag Chain Pallet Handling Accumulation Conveyor with Individual Zone Drives: Since loads never touch each other, these are ideal conveyors for creating a uniform line of pallets or other loads. These conveyors are zero-pressure accumulation.
When to choose drag chains: When the load isn't suitable for rollers. They're great for pallets with formed feet. This could be due to the nature of the pallet or the item being carried. Since drag chains pull the load rather than supporting it fully like rollers, the load characteristics should be fully understood as you progress. These conveyors work better than most other types in high-temperature environments. 
Poly-v belt-driven power roller conveyors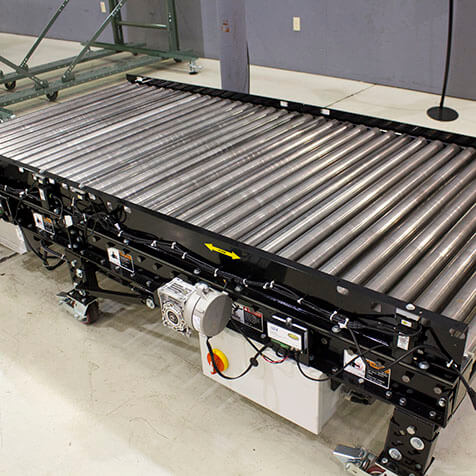 Poly-v conveyors are available in both transportation and accumulation models that integrate with EZLogic systems. They're also called PLV conveyors. Their design is inherently quieter than drag chains or chain-driven live roller conveyors. They are relatively low maintenance compared to other pallet conveyor types.

Above: roll-to-roll drive belts. 1.9″ rollers on the left, and 2.5″ diameter rollers on the right.
When to use poly-V systems: When you need quieter operations, poly-v systems are the right choice due to reduced noise and vibration levels. These conveyors are good for bulky, relatively lighter (compared to drag chain and chain-driven conveyors) pallet or drum loads.  They tend to require less maintenance. 
Plastic belt powered pallet conveyors
Plastic belt pallet conveying systems handle footed pallets, slip sheets and other loads you can't convey on rollers, or which cannot be handled on drag chains. These conveyors are built with EZLogic accumulation controls, making them ideal for products that shouldn't make contact with each other on the conveyor line. Belt widths from 30.1" to 73.6" accommodate a large variety of load sizes.
When to use plastic belts: Plastic belts are excellent for full load support, such as footed pallets, slip sheets and unitized loads. Use plastic belts where the load cannot be supported by rollers or drag chains. 
Gravity conveyors for pallet handling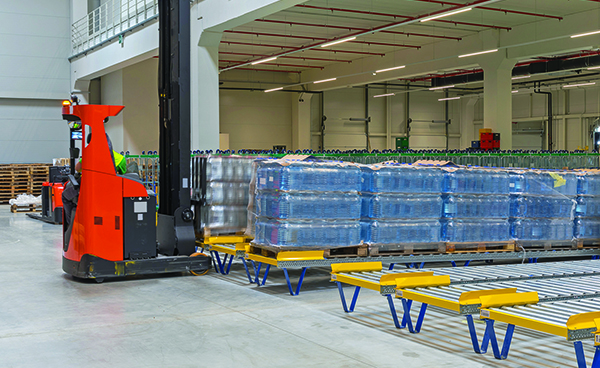 Heavy-duty gravity roller conveyors, ball transfers or floor-mounted conveyor rails can convey pallets and bulk loads. They don't require power, and because they have no motorized parts, they need much less maintenance.
When to use gravity conveyors for pallet handling: Excellent for lighter, larger loads that can be pushed manually or conveyed safely at an appropriate pitch. You can also transfer many types of loads with short runs of gravity or ball transfers configured the right way. Floor mounted gravity rails set at the correct angle can handle some palletized loads to make conveyance easier, lower maintenance and more efficient, particularly compared to other alternatives.  
Find the right handling solution
Defining your load, handling methods, process and application environment are critical steps for making the right choice. If you need assistance, contact us today.
More resources
---
Scott Stone is Cisco-Eagle's Vice President of Marketing with more than thirty years of experience in material handling, warehousing and industrial operations. His work is published in multiple industry journals an websites on a variety of warehousing topics. He writes about automation, warehousing, safety, manufacturing and other areas of concern for industrial operations and those who operate them.
What can we help you with?