Storage Efficiency: Shelves vs. Modular Drawers vs. Flow vs. Vertical Carousels
What methods provide the most efficient storage? What are the goals?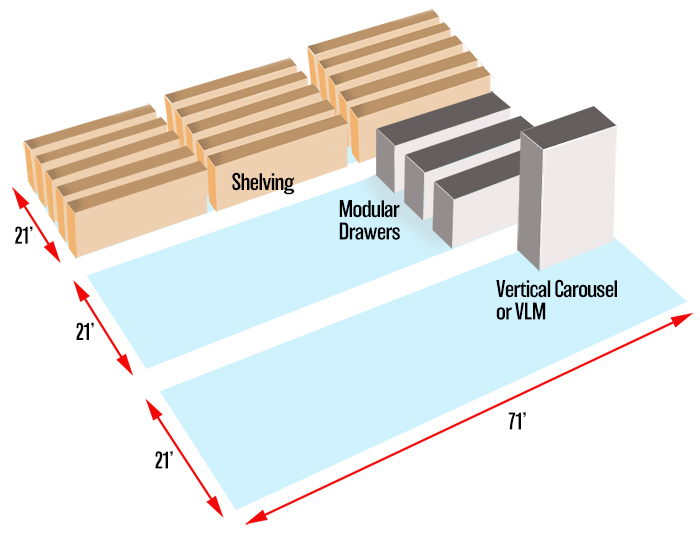 Storage systems are designed for different goals, but space efficiency is always important for growing and evolving warehouses and manufacturing facilities. Which storage equipment suits you, your application, product and needs?
Above: a visual comparison of space utilization featuring various methods. The vertical carousel provides the same amount of storage space as several rows of shelving or modular drawer storage. In this instance, the carousel saves over 1,400 square feet of floor space compared to shelving. Flow racks also compare favorably to shelving in terms of space utilization.
Flow rack stresses its ability to do something more important—save steps and time. All storage media offers a balance of cost vs. space savings and productivity enhancement, and all of them offer situational advantages for the proper application.  There are many alternatives—including mobile aisle systems for shelves and racks. Much will depend on your load and operational needs.
Storage efficiency factors
Factors other than storage density factor into storage equipment decision making. These include, but aren't limited to:
Type of load and characteristics: Some load types are compatible (or at least more suitable) for certain storage media. For instance, modular drawers are excellent for tools and components but not typically used for cartons.
Versatility: Some of these options allow you to mix inventory and change your slotting schemes faster than others. The ability to do that may be critical.
Cost: all these options have direct financial costs and indirect labor, space and functional costs. Carousels and mobile aisle shelving are more costly than traditional shelves, but consume less space and reduce labor costs, for instance.
Space utilization: This factor tells us how much space any particular storage media consumes to store the same amount as other media. Shelving tends to be the baseline because it consumes the most space.
Productivity: How fast can pickers access the stored goods? How quickly can it be replenished?
Comparing storage media options
Most other methods compare themselves to shelving, and not necessarily to each other because shelving is the baseline: highly flexible, low-cost, but labor and space inefficient. If cost isn't an issue (and it always is), carousels max out your storage density. However, for a reduced cost, modular drawer storage saves 2/3 of floor space vs. shelving and are less expensive than carousels, but not as secure or labor-efficient. All storage methods have a role and when correctly designed, have excellent cost vs. benefit ratios.
| | | | | | | |
| --- | --- | --- | --- | --- | --- | --- |
| Media | Load Type | Versatility | Cost Factor | Space Utilization | Productivity | Notes |
| | Cartons, Bins | High | Low | Fair | Fair | Inexpensive and easy to re-slot |
| | Tools, components, small items | Moderate | Moderate | Good | Good | Secure: (lockable) and can be built into shelves, cabinets or mobile cabinets. |
| | Cartons, bins | Moderate | Moderate – High | Good | Good | First-in, first out and very space efficient. Reduces walking as a goods-to-picker method. |
| | Cartons, components, bins | High | Moderate – High | Excellent | Fair/Good | High density with reduced access due to aisle rotation. Can be made very secure. |
| | Cartons, components, bins | Moderate | High | Superior | Excellent | Automation for speed and accuracy; high density and secure |
What matters most? It depends on your application and operation
Determine what matters most to you to make the right decision. Is it storage density? Labor costs? Ease of access? Cost? Versatility? All of these storage & picking solutions offer advantages in balance, relative to each other. Most warehouses mix these types of storage to balance loads, costs, versatility and space efficiency. We can help you lay out a warehouse that uses the right storage media in the right place for the right function.
More resources
Tags: space savings, warehouse storage
---
Scott Stone is Cisco-Eagle's Vice President of Marketing with more than thirty years of experience in material handling, warehousing and industrial operations. His work is published in multiple industry journals an websites on a variety of warehousing topics. He writes about automation, warehousing, safety, manufacturing and other areas of concern for industrial operations and those who operate them.
What can we help you with?