How to Specify Your Mezzanine Project
Steps toward a successful industrial platform project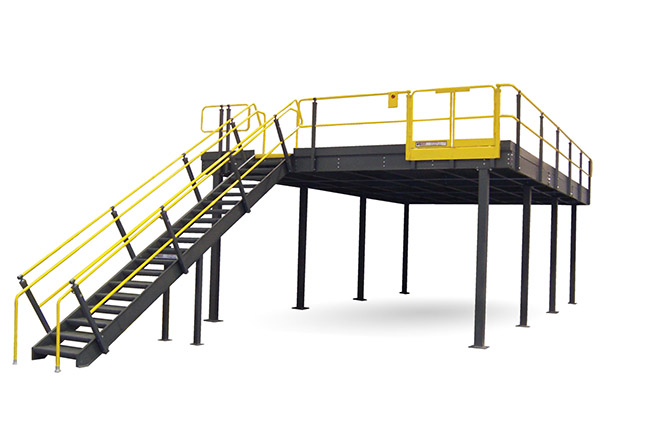 Increasing space in your current facility is a big decision that requires an evaluation from a number of perspectives for the best outcome. Mezzanines are a common, relatively fast and economical way to add space to warehouses, factories, hangars and other commercial facilities. You should work through the following considerations for mezzanine design and specification.
The first question is, "what's the application?"
Sometimes it's simple storage. Other times, it's to add office space or work areas. Some mezzanines are used for elevated conveyors, picking or clean rooms. You can do most anything on a platform that you can do on the floor, so long as it's built for the task. Make it a point to create a working document of your goals, future needs and objectives for the new space. This shouldn't be complex, but should have enough information to evaluate the situation.
Specific application questions include:
What will you store on the platform?
What is the total weight and distributed weight of the load? (If you don't know, estimate it.)
Estimate the load on your interior columns, which will support more of the load than exterior ones. If you don't know for certain, don't worry; we can help you calculate it.
How will you tie the mezzanine into existing operations?
Who will use it? How many people need to access it? From where and how will they access it?
How will you deal with elevating loads from the floor to the platform? See more
What will the floor area beneath the mezzanine be used for?
Does the project need to be built for future growth, and how?
Do you want to achieve higher-density storage, which is provided by shelf or rack supported mezzanines?
Will the mezzanine require any gaps in its rail system for loading? How will that be made safe/secure?
A general guideline to mezzanine capacities: Light storage may be 125 pounds per square foot, with heavy requirements up to 250 PSF. If you are handling moving equipment, it may drop below 100 PSF. These situations require specific analysis. 
Understanding point loading
Point loading is defined as an unusually heavy, single load or force placed within a concentrated area. Examples may include pallet jacks with 2,500-pound loads, conveyor legs, heavy machinery or extremely high-load shelving. When a mezzanine hosts extremely heavy loads, conveyors, pallet jacks or any type of moving machinery that act on the platform dynamically, that must be accounted for in the design and construction. Note any activities or loads as you specify your project and we can help you build it out.
Evaluate floor, environmental and facility factors
What type of mezzanine can be installed in your building? What's the current use of the floor beneath your proposed mezzanine?
Do you have an accurate drawing of your facility? It makes the process much easier. If you don't have one, can you get one? It's not a showstopper, but when you have a good drawing to begin with, it makes everything faster.
Building columns & other structural placements: The placement of building columns dictates where you can place a mezzanine. Other obstructions include ceilings and ceiling-mounted obstructions like ducts and existing equipment like cranes. Can you move certain operations, like bridge cranes, plumbing, workcells or conveyor lines to accommodate the mezzanine?
How much space do you have? Most people have a certain amount of space in mind when they start a project. Facility and practical limitations may limit this, but you'll usually have a good idea what you can do. You can usually place a mezzanine in a space that's close to its actual dimensions, depending on staircase or lifts placement.
Can your floor and soil handle the mezzanine weight? You'll need to know the following things:
Floor capacity: The typical floor in many regions is made of 6″ thick concrete and has a capacity of 25,000 pounds, but you can't count on typical capacities. You must know the specific weight and where it resides. This should include the spacing, size and specifications of the reinforcement rebar in use. It's critical to know if any post tension reinforcement is being used.
The soil composition: The ground beneath your slab factors into the amount of weight it can bear. How much will that soil compress under weight? The presence of a high water table may radically decrease the weight your floor can bear. If your soil can't bear the needed load, footers can be poured, but it's critical to know this up front.
See more: Mezzanines and Floor Capacities
Column layout: When you're building a structural mezzanine, column spacing is critical for determining what the platform can bear. The more columns you add, the higher your capacity will be. This naturally reduces the space on the floor beneath the mezzanine and may impact activities and storage space.
Will the mezzanine be exposed to elements, moisture or other adverse conditions? If heat, water, chemicals or moisture is present, you may need to finish the mezzanine's structural components differently, or change some hardware of components.
Investigate compliance and governing code issues
You need to know the codes, local and otherwise, that will govern the permitting, safety and structural integrity of your mezzanine to ensure it conforms to all governing authorities during its construction and utilization. Any professional mezzanine company can help you with these issues.
Building codes: The most important governing body is the IBC, the International Building Code. It's widely used in the U.S., for projects both new and during retrofits to existing structures. Importantly, you may have local codes that conflict with or exceed IBC requirements, and it's important to understand where and how this may happen.
Building permits: Will your project require a local building permit, or even a set of them (city, county, state)? Mezzanines tend to require permits in most areas.
Safety compliance: OSHA standards are aimed at mezzanine safety. This often focuses on safety handrails, but goes deeper in some areas. Check this article for a deeper dive into OSHA's mezzanine code. Local and specific industry guidelines may be more stringent than OSHA ones, so it's best to check those as soon as possible.
Seismic requirements: Mezzanines and other structures built in an active seismic zone may have different requirements. This step is typically covered by a visit with your local building code authority, which will guide you on any seismic construction requirements.
Select the type of mezzanine you need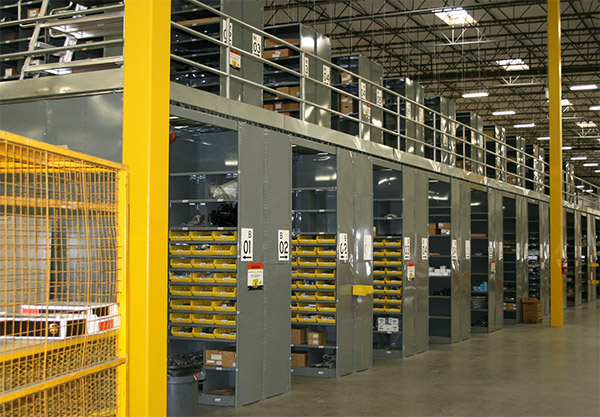 Mezzanines can be built in many styles, sizes and for particular applications. Some alternatives include the following:
Custom fabricated, or "stick built." These mezzanines are fabricated in place and can be quite complex in their configurations, sizes and shapes. This is the simplest type of mezzanine, but installation is slower as the mezzanine is being built step by step.
Custom manufactured. These mezzanines are made-to-order, and built at a factory. The mezzanine is designed to fit the facility space and then assembled on-site. Installation is relatively quick, as components are built in advance. Custom builds can be configured for a wide variety of spans, shapes and capacities. They may be structural or shelf/rack supported in nature.
Preconfigured mezzanines are offered in common, standard sizes. They are usually built in modules of a particular platform size, which is then fitted together for the final product. (We offer a range of modular mezzanines for comparison.) These mezzanines are excellent when you have standard loads and when fitting precisely in an area isn't critical. They come with standard stairs, rails, etc.
Structural mezzanines are freestanding, supported by columns. They can be built for very high weights and difficult applications.
Shelf or rack supported mezzanines. These mezzanines utilize racks or shelving as the structure. They are typically custom made and can fit a precise area. They are often very high density for storage needs.
Pick your decking type
Decking choices will usually be dictated by your application and load. Corrugated steel roof deck is probably the most common deck type. We cover decking options extensively in this article. For specific applications, we can help you ensure the right surface is used.
Choose landings, stairways, gates and handrails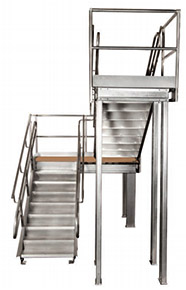 To complete your mezzanine, you'll want to determine what type of access options you will need and designate where they will go. You'll also need to look at gates, landings, rails and other factors.
Stairs should be engineered to meet building code standards (IBC, UBC, OSHA or other applicable local standards). Beyond code compliance, consider how the stairs will be utilized, by who and when. You can designate wider stairs based on the flow of traffic. Stairs can be built to a variety of specifications. Consider safety and footing by installing grit surface or other coatings.
Landings, like stairways, can be configured many different ways.
Handrails are a critical component when it comes to safety. Usually, rail types are dictated by the prevailing safety codes. You also have options on the number of horizontal rails, and options like expanded metal, wire mesh or cabling are available.
Safety gates. If your people need to access platform edges, a rotating or sliding gate that allows them to do so safely is critical.
Protective options. If forklifts will operate nearby, it's best to add column protectors or rails on the outer mezzanine legs.
Access options. There are many ways to access a mezzanine, ranging from conveyors to vertical lifts to package lifts and spirals. Depending on your load and space, any of these methods can work.
How can you get started?
We can help you specify the right size, style and configuration for your project. Contact us today for fast assistance.
Steps to specify a mezzanine project
Define your application and loads
Evaluate your facility, its floor and its structural components
Identify safety and governmental code standards
Specify the type of mezzanine you need
Choose decking/floor type
Specify landings, stairs, rails, kickplates, gates and other safety equipment
---
Scott Stone is Cisco-Eagle's Vice President of Marketing with more than thirty years of experience in material handling, warehousing and industrial operations. His work is published in multiple industry journals an websites on a variety of warehousing topics. He writes about automation, warehousing, safety, manufacturing and other areas of concern for industrial operations and those who operate them.
What can we help you with?