How Much Money does Shipping Rivet Shelves Without Decks Save?
Particle board decking adds significant weight, and may best be purchased locally to avoid shipping costs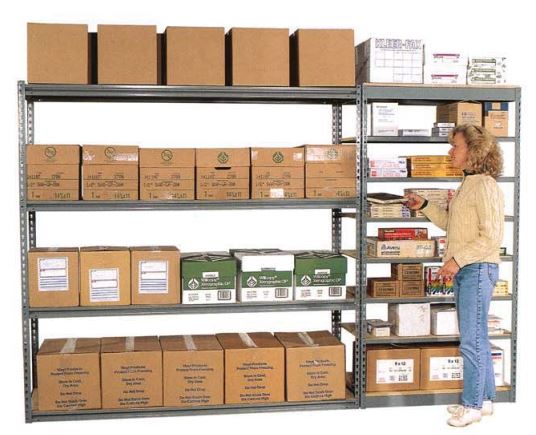 We sell loads of shelving all over the country, and one of the persistent issues is the cost of shipping. In particular, that's an issue for industrial rivet shelving, which is the most economical type of shelving with the highest capacity. It is easily the most popular industrial shelf type going. For many customers, shipping an all inclusive shelving system is the easiest, most convenient thing — we do it all the time.
The problem with that is the heaviest part of the order is the particle board decking
You can see that easily enough when you compare a 48″ wide, 36″ deep shelving unit with decks included to one without. The unit with particle board decking weighs 188 pounds and change. When you remove the decking, the shelving weighs just 68 pounds. This is why we offer the shelving both ways. The shipping cost for ten units of this shelving with 5/8″ inch particle board would be a around double the cost of shelf framing only, depending on the way it's shipped and where it's going. Since we provide online shipping calculation, you can check our site to see exactly how much you'd be saving. Also, smaller orders can typically be shipped via UPS or other package delivery services if they don't include wood decks.
Particle board can be damaged in shipping
We properly package, band and protect our shipments, but particle board can get chipped, dented or broken in shipping a lot easier than the steel frames can.
So if you want to save that shipping cost, the easy thing to do is to acquire the particle board from any local lumberyard. You'll have to have it delivered or go pick it up, but it will be less than shipping it motor freight. It's an easy cut to make since the shelf size listed actually indicates the deck size. A 48″ x 36″ shelving unit requires 48″ x 36″ decks — no tricky measurements or cuts.
Shelving Resources

Tags: Industrial Shelving, shelving, storage, warehousing
---
Scott Stone is Cisco-Eagle's Vice President of Marketing with more than thirty years of experience in material handling, warehousing and industrial operations. His work is published in multiple industry journals an websites on a variety of warehousing topics. He writes about automation, warehousing, safety, manufacturing and other areas of concern for industrial operations and those who operate them.
What can we help you with?