Keeping Safe Distance With Wire Partitions
Protect your employees and product by keeping both secure during this new normal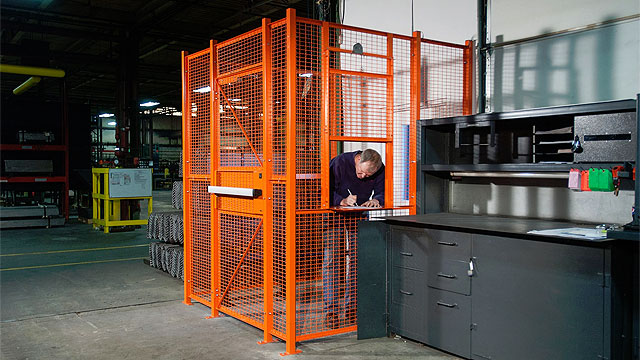 Wire partitions are a safe way to provide secure storage for critical inventory, tools and components in any manufacturing or distribution facility. They can be relied upon in a variety of applications to protect inventory and reduce shrinkage.
In the Covid-19 age of social distancing, using cages to enforce distances is a relatively new but critical function. When it comes to protecting your workers, you want to look at all methods. While wire partitions can't be used in every situation where there's a need for employee distancing and protection, in some aspects they can certainly help.
Wire partitions offer unique flexibility that you might not have otherwise. They can be expanded, moved or simply reconfigured to fit the ever-changing needs that an essential business has in keeping workers safe. This unique flexibility offers you peace of mind for whatever the next months have in store.
Added employee security and safety
For facilities that deal with third parties coming and going (and most do), having a designated waiting area is an ideal way to help prevent the spread of Covid-19. Installing a wire partition like a driver cage that controls entry doors stops unauthorized entrances and will helps to identify a place for further sanitization. This keeps you from having to guess where all a third party has touched or come into contact with your workers.
If you deal with trucks in and out, having a wire partition close to your loading dock offers this same security, and allows for a specific area for those drivers to wait while their trucks are being loaded or unloaded.  Additionally, you can store cleansers and sanitizers in the partition so the drivers coming and going will have access to keep them safe as well.
More: Innovative ways to secure your facility with wire partitions
Protecting high-demand inventory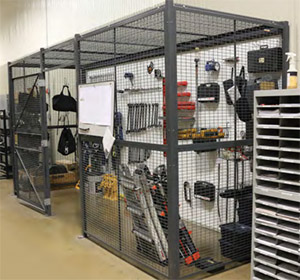 We've seen the news clips, the images splashed on online sites, of empty paper towel, sanitizer and toilet paper shelves.
To protect against pilferage of these high-demand items, a wire partition can make excellent and secure storage that will restrict access to designated personnel. Wire mesh wall and ceiling panels make it easy to identify, access, and retrieve items, and woven wire provides for secure storage at all times.
You can also turn any pallet rack into a cage for bulk storage.
Not only do you want to protect your company assets, but protecting your product is doubly important.
Essential businesses that are helping those on the front lines with medical, food and security supplies have to guard against the potential loss of product due to employee pilferage. Those that are making N95 masks, for example, are creating very tempting items for those to steal and sell on their own. To secure them until shipped out to help those fighting Covid-19, a wire partition system can provide a way to keep products under lock and key until shipping commences.
We are certainly in a new age, and the protection of personnel and product is more important now than ever. By implementing wire partitions into your operations, you can guard both to make sure your facility is safe.
More Resources
Tags: wire partition, wire partitions
---
What can we help you with?